David Bowen, DDS, has dentistry in his genes. Growing up in Moscow, Idaho, his grandfather was a dentist, his mother is a dentist, and his older brother is a dentist. His mother still practices with his brother in Moscow.
But he didn't always plan to be a dentist. He studied business at Walla Walla University and graduated in 2010 with a major in business administration and a minor in chemistry. His genetic predisposition must have had an influence on him since he then went to Loma Linda University School of Dentistry and graduated in 2016.
Starting from Scratch
In 2017, he started his first practice from scratch in Bozeman, 450 miles away from his hometown. He opened his practice with 6 operatories and now has two locations on the opposite sides of town. He just purchased the second practice in January 2020.
What's in a Name?
The name Bozeman Family Dentistry was chosen out of the desire to create an environment that feels like family. Dr. Bowen and his staff's goal is to make patients feel comfortable, heard, and that their dental goals are met.
General, Cosmetic & Restorative Dentistry
The practice has three doctors and a support team of nine. Other doctors on site are Dr. Lisa Heumpfner and Dr. Scott Lawson. They provide comprehensive dental care for family members of all ages and offer an extensive selection of preventative, cosmetic, and restorative dental services including professional cleanings, fillings, crowns, bridges, implants, and Invisalign®.
Practice Philosophy: Putting Patients' Dental Care Above All Else
The practice's philosophy is to put their patients' dental care and results above all else. Dr. Bowen works directly with patients to create customized treatment plans for a healthy and vibrant smile that lasts a lifetime.
How Bozeman Growth has Affected the Practice
The growth in Bozeman has been exponential for the last 5-10 years. Initially when Dr. Bowen set up his first practice, the growth rate of Bozeman was four times the national average, he said. "This has provided us with many opportunities for new patients and helped us grow our practices significantly."
Expansion Process was Great
"The expansion process was great," Dr. Bowen says when describing his expansion experience. "Burkhart's Account Manager Mike Anderson and Equipment Specialist Klint Croucher did an amazing job. From the time Klint heard we were interested in starting a dental practice in the Bozeman area, until we opened the doors, he worked hard to get us open on time. Both of them made the entire process very easy to navigate."
Educated Decision in Selecting Equipment
"Klint and I had discussed different brands of equipment, the pros and cons of each one," says Dr. Bowen. "We were able to make a very educated decision on what we wanted and then started on office design."
Burkhart Advantage
"Burkhart has incredible service and personal attention to each customer. It is the reason I am a loyal customer. I looked at other dental supply companies when I first started my practice, however, none even held a candle to the service of Burkhart. I enjoy having Mike in the office every other week to help with ordering and returns. I don't have to employ someone to do our ordering; we just hand Mike the list and he gets it done."
Advice for Those Considering Expansion
When asked what advice he would give to others considering expansion, he emphasizes that doctors should pay for quality equipment because, "it's absolutely worth the investment."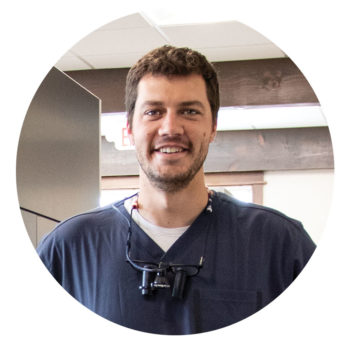 Inside Scoop
Dr. David Bowen
David Bowen was raised in the rolling hills of Moscow, Idaho and is a third-generation dentist. Early on, he had the opportunity to join several dental service trips in Jamaica and Malawi, Africa. It was on those trips that he was able to tangibly see the profound effect of dentistry on people's lives.
Upon earning his degree in business administration from Walla Walla University, he was accepted into Loma Linda University School of Dentistry. While in dental school, Dr. Bowen had the opportunity to travel to Nicaragua and provide dental care to children in need. He also worked in a volunteer clinic in Redlands, California and joined the Flying Doctors organization that provides care to people throughout Southern California and into Mexico. He graduated in 2016, earning the alumni association's award for Student of the Year.
---
Dentists
3
Staff
9
Active Patients
3,000
New Patients/Month on Average
65
Services
Preventative, Cosmetic, and Restorative Dental Services
Including Professional Cleanings, Fillings, Crowns, Bridges, Implants, and Invisalign®
Focus/Specialty
General Dentistry
Mission
Prioritizing patient needs through excellent service and outstanding patient care.
Practice Size
1,994 Sq. Ft. (Practice 1) & 1,948 Sq. Ft (Practice 2)
Operatories
6 (Practice 1) & 5 (Practice 2)
---
Realize your dream office potential and talk to your Burkhart Account Manager today. Learn more about Burkhart's Office Planning & Design capabilities.
---
Learn more about The Bozeman Boom.
---
Written by Denise Ploof
Photos by Emily Denis
Published in Catalyst – Spring/Summer 2020.
Category: Office Planning & Design
Back to Articles