Dr. Andrew Edwards of Deschutes River Dentistry tells us about breaking traditional practice design ideas and focusing on what matters most.
I grew up in a very small town in north Arkansas called Fairfield Bay. It was a beautiful area with a big lake and many outdoor activities. It was a great place to grow up because, as kids, we spent most of our time hiking and exploring the outdoors. My high school graduating class was only 26 people but very competitive; we ended up with many teachers, nurses, and business owners. Out of myself and my three best friends we ended up with an internet mogul, an internal medicine doc, an oral surgeon, and myself as the lowly dentist.
I came to dentistry late. Starting at the University of Arkansas, I wanted to be (in no particular order), a park ranger, history teacher, physical therapist, veterinarian, you name it! After attending Colorado State University for a Masters in Anatomy and Neurobiology I finally decided on Dentistry, mainly because I was running out of time and I liked the hours I thought a dentist might have! My wife and I were accepted into UMKC School of Dentistry, so we loaded up the U-Haul again and moved to Missouri. After school I worked as an independent contractor for nine months and decided I was ready to 'run the show'.
I found a 900 square foot practice in Gardner, Kansas and commenced to learning about running a business! After learning a lot about dentistry, even more about being a business owner, and spending five years building my practice, I was finally able to convince my family to pull up stakes and head west!
As a kid, my family always took road trips visiting National Parks, so I was always drawn to big natural spaces, especially in the west. I spent some time hiking the Olympic Peninsula in Grad School and we had some old friends in Olympia, so that helped make Washington our final destination.
Building Confidence
My first practice in Washington was like many, from a retiring dentist with a shrinking patient base, no advertising, and old equipment in a dark, uninspiring strip mall. However, it doesn't matter where you start, my practice philosophy has always been the same: provide quality dentistry you can stand behind, treat people and staff with respect, and don't settle for anything less than great customer service. Four years later I purchased another practice five miles away and decided I was well on my way to being a dentistry mogul!
Settling Down with a Great Team
I found out quickly owning multiple practices meant my staff was going to be operating as two separate entities, so I decided to look for a new, central location and build the office I wanted to retire in—I was 40 after all! It's important to note I never personally went to a dentist until I was well into my 20's, and I only worked for a dentist for nine months out of dental school. This gave me both a serious lack of experience in what a practice should be as well as a very open mind of what a practice could be. I had a few things going for me: I was always confident, had a small but happy patient base, a great banker (Dani, Columbia Bank), the beginning of a great team, and a wildly naive idea dentistry could be fun!
After a few false starts and big disappointments, I finally found my spot. A quarter mile away from my first practice and six away from my second. It was full of natural light, had a great view of the mountain (Mt. Rainier), and it was the penthouse suite; I felt like the king of the castle!
Natures Beauty and a Unique Personality
I hired a space consultant that had a lot of experience in dental, and even more importantly, she didn't wince when I told her all of my funky ideas. We planned out the space to take advantage of all the natural light and views and really started to come up with the overall plan. My wife does not buy in to my decorating philosophy at home so I decided to run with it at my office! I knew I wanted a fun, quirky, colorful, open office. I also have a dirty little habit of collecting antiques, so I really wanted to integrate some cool pieces throughout the office. I found antique windows for the operatory walls, a 1928 refrigerator I restored, and a classic stand up Galaga game for the waiting room. I had a local saw mill I had worked with previously and started cutting the rough cut Fir for the operatory walls and a giant Maple live edge slab as the centerpiece of the front desk. I even used all of my old license plates for the pendants over the front desk.
First Impressions and More
My overall goal has been to break down the barriers between my patients and my team, so we made the waiting room very open; the first thing every patient sees when they walk in is a smiling face and a warm atmosphere to greet them. Absolutely no smooth jazz here, we play everything from Pearl Jam and the Pixies to Willie Nelson and The Avett Brothers. After little to no wait, our patients are escorted back to an operatory. These are perhaps where I had to fight with the status quo the most. One of my favorite, most rewarding things in dentistry is to help anxious patients find their way back to dentistry.
Thoughtful Planning
As we all know, many patients are anxious because of past experience, so I thought, "Why not make my operatory so different they can't help but feel relief from the past?" I was adamant about having no dental equipment in sight of the patient, so we did away with the overhead lights (we all wear loupes with lights), all of our ops are 12 o'clock delivery, and we decided to go with Nomads to get rid of all the dental clutter. Our ops are open, clean, cheerful, and soothing both to my team and our patients.
We have been working with itero for a couple years already as well as a cone beam for implants and surgery. Because everything is digital, my patients really notice our technology and my team's and my passion for education and quality work. I feel really strongly about always being able to show my patients what I am diagnosing (intra-oral cameras, digital x-rays, cone beam). Trust is crucial, plus I really like to explain why we do what we do and that leaves patients feeling reassured. I really believe patients feel more at ease the more in control they feel, so we give them the driver's seat for their dental decisions. Our patients are given a "comfort menu" that includes anything they may want during their procedure. Our menu includes anything from blankets, noise cancellation headphones, aromatherapy towels, and our most popular option: requesting I do not sing during the appointment!
Great Success
I can really tell our team loves the new space! I made it a priority to listen to what my team wanted and suggested and because of that they take a lot of pride in our office and offer good quality dentistry. The sound of laughing—yes, laughing—is the most predominant day-to-day sound in our office and I have gone from dreading my drive to work at times to feeling like the days go too fast!
Keeping the Connection
We all know modern dentistry can be demanding and stressful. We graduate with mountains of debt and very little business acumen. Between insurance companies and corporate dental, we private dentists are feeling the squeeze. However, I personally don't fear corporate dental because we private dentists still have one giant advantage. We are there every day. That means we can give a personal touch and make sure our patients feel appreciated. I think they know it really means something that the owner is the one providing a lot of the care and living in and giving back to the community. However, that also means we have to build a practice we believe in, build an amazing and energetic team, and always put customer service first!
That is why it is important to have partners such as Burkhart to help along the way. I never felt like they were trying to drain me and I always felt from the technicians, my Equipment Specialist Jim Connor, and my great Account Manager Tom Platzer, they were trying to save me money and assure my office was successful just as much as I was. Not every day was stress-free but Tom and Burkhart were always there for me and often went to bat for me, like the time we had trouble with our Nomad batteries. They even loaned me an autoclave for a month while one of mine stopped working. Burkhart set up a coding system for our supplies so my team spends way less time ordering and we can be more organized to take advantage of sales and deals. I'm very glad I switched to Burkhart and I look forward to many years of partnership.
Choose Quality
If I had any advice for private dentists it would be this: build your practice and your team around your passion and strengths. Treat your patients and your team with respect and they will take care of you for the rest of your career. Patients are smart and they can see when a practice is happy and dedicated to quality. Let the other practices offer free bleach trays and exams; my practice grows because my team and my patients are the best drivers of my practice and that is steady sustainable growth I don't even have to pay for! Quality is harder than buying flyers, but it sure feels better.
The Truth is in the Outcome
I will end with a short story about one of my patients, Ken. The first time I met Ken he was sweating like he just ran a marathon and he was so nervous he had a very hard time making eye contact with me. Ken wanted to pull anything with a cavity and damn the consequences! I talked to Ken for about thirty minutes before I even mentioned teeth. Once I felt he was calm enough to sit back I got to the exam. We took a lot of pictures to explain treatment and told him this was not our first rodeo and we could confidently bring him back to a situation he was proud of and much better for his overall health. Two appointments later I found Ken 30 minutes early, playing Galaga in the waiting room and cool as a cucumber. After finishing an implant and many restorations, he sat up, looked me in the eye and cheerfully said, "when can we start the other side Doc?!" that very same day.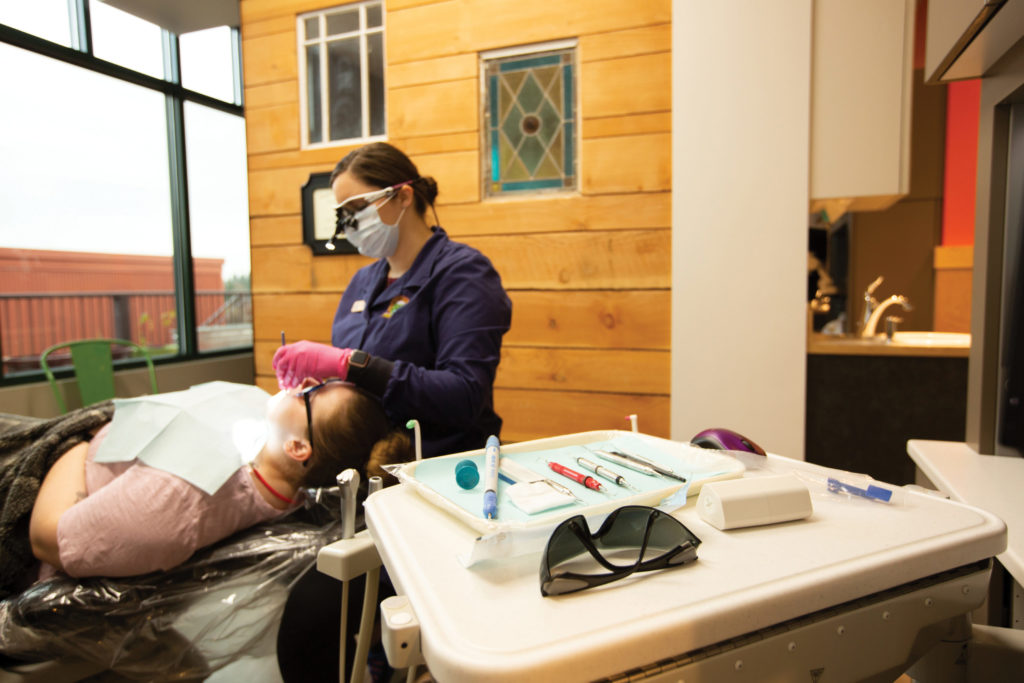 ---

"Most of all, I really trust them to be real with me."

Jamie M., Happy Patient

NOT what you would usually say about your dentist office. These appointments are something I actually look forward to. From the time Dr. Edward's was at his previous location a few years back, I was impressed with his personality and the absolute kindness and genuine nature of every single employee that took me through my visit. Dr. Edward's also always plays an excellent playlist. The new location is so beautiful with fun design themes and a very comfortable setup. The staff are ALWAYS kind and helpful. Prices are reasonable, my insurance actually usually covers everything. Most of all, I really trust them to be real with me. No hidden fees, unnecessary procedures or unsafe practices.

---
PRACTICE SIZE 3,400 Sq. Ft
BURKHART ACCOUNT MANAGER Tom Platzer
BURKHART EQUIPMENT SPECIALIST Jim Connor
CONTRACTOR Saffle Co. General Contracting
ARCHITECT Christine Benda, JPC Architects
---
Realize your dream office potential and talk to your Burkhart Account Manager today. Learn more about Burkhart's Office Planning & Design capabilities.
---
Written by Dr. Andrew Edwards
Photos by Matt Ellis
Category: Office Planning & Design
Back to Articles