Huge Benefits for
Patients
at Wilkinson Dental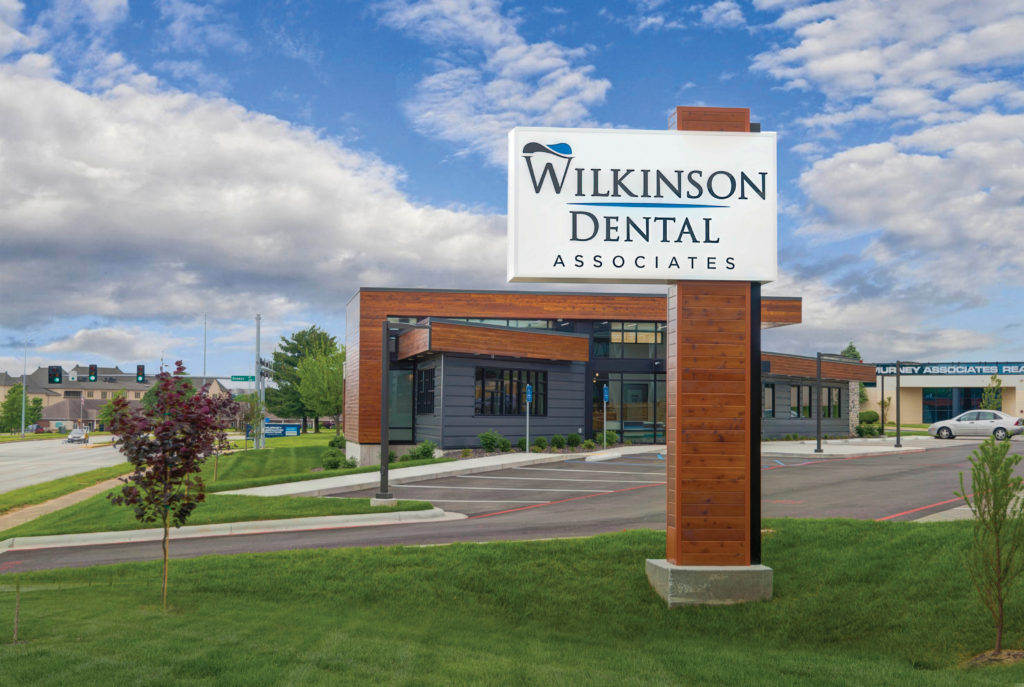 At Wilkinson Dental, the doctors' and staff's passion is to provide the personalized treatment patients deserve. Through continued training and investment in state-of-the-art technology, the general dentistry practice in Springfield, Missouri, provides comprehensive care from general dentistry to cosmetic services. In 2018, the practice celebrated 20 years in Springfield.
A native of central Illinois, Dr. Trent Wilkinson, DMD, PC, moved to Springfield after graduating from Southern Illinois University School of Dental Medicine in 1998. He was drawn to the Ozarks because of his love for the outdoors. He and his family now
call Missouri their home.
In designing their new 6,000 sq. ft. office with 12 operatories, Dr. Wilkinson was very thoughtful about how patients would flow from one area to the next, considering what they would see, hear, smell, and feel when they moved throughout the office.
A Burkhart team, including Account Manager, Stan Lechner; Equipment Specialist, Russ Cornelius; and Lead Service Technician, Tim Williamson, was there from the beginning and helped turn Dr. Wilkinson's dream of a new office into a reality.
Dr. Wilkinson shares his experience below.
Huge Benefit to Patients
Q. What was your motivation for opening your new building?
We have a vision of a practice that can provide expanded hours of operation through multiple doctors and offering many specialty services in-house. This will be a huge benefit to our patients who count on us for timely help and prefer not to be shipped out for these services. We also have a larger vision of community events and involvement that was limited by leasing a space and restrictions of landlords. With our own facility, we are freed up to host these things without worrying about that. Training was another big reason. In our other facility, we never had the space to really gather and learn together. We wanted a dedicated area to be able to do training and constantly improve how we do things. Most of the team will say the training area is the best thing about the new office.
Trusted the Products They Recommended for the Dream Office
Q. Tell me about the equipment selection process.
When it came time to build my dream office there was really no big decision to be made on the main brand to use. I have visited the A-Dec plant in Oregon and seen their commitment to quality equipment, so that's what I wanted in the new facility. I worked with Burkhart Equipment Specialist, Russ Cornelius to map out all the areas where new equipment would be added, and he gave recommendations. I didn't have to do a whole lot myself once I had a relationship with Burkhart; I trusted in the products they recommended. They knew my overall equipment budget and worked to make sure I could get everything we needed and did not go over the budget.
CAD/CAM – A Game Changer
Q. What dental equipment has changed or improved the way you work clinically?
For us, the use of CAD/CAM technology for scanning and producing crowns in the office has been an absolute game changer. It gives you complete control over the entire process and the patient doesn't have to wait and come back another time for the final restoration. Then, pairing that with 3D cone beam imaging opens all the doors for incorporating new workflows and digital options for implant placement, orthodontics, and even denture work. The A-Dec sterilization center is beautiful, and we show it off a little by just having a glass wall you can see into a bit. Every patient is shown we have state-of-the art sterilization, which is something people have concerns about wherever they go for healthcare these days. With the new office, we were
able to add the instrument washer to our process which makes the processing of cassettes faster before they go into the sterilizers.
Adding Operatories Leads to Increased Production
Q. How has the addition of operatories impacted workflow, appointment scheduling, and production?
My experience has been that adding operatories always leads to increased production. It definitely follows the "if you build it, they will come" model. Most dentists wait too long to invest in additional capacity, out of fear, but once you've made that decision, you can turn your energy to making that investment work. Having an extra chair or two gives you the flexibility to work in patients for same-day treatment, which can be a significant source of new productivity.
Doing it Right from Day One
Q. Can you tell me about the key players working with you at Burkhart on building the new office and how they helped you or the process?
I migrated to Burkhart through our sales rep. Stan Lechner who used to be with one of the other big supply companies. When he moved to Burkhart, we checked it out and have been glad ever since.
I met with Burkhart's Equipment Specialist Russ Cornelius to talk about the scope of the project and he lined out the steps and a general timeline. We took a trip together to attend a design seminar sponsored by Burkhart and roughed out the space and general design elements. After that he worked directly with our architects to make sure the layout supported the equipment and technology we would be using. Russ produced pages that could be put straight into the architect and building plans that showed all the equipment specifications and how everything would be installed. Every piece of hardware, no matter how small, was in the plans.
During construction, the Burkhart team was on the site constantly to direct the contractors. Dental buildings have many unique needs for plumbing, electrical, etc. that most contractors are not aware of. Having Burkhart's Equipment Technician Tim Williamson there meant things got done correctly the first time and we didn't have to go back to correct things and cause more delays or add to construction costs.
Move In: Burkhart Really Stood Out with a Monumental Effort
Probably the time when Burkhart really stood out was when it came time to move in. As with most building projects, the timeline got really tight at the end and we had to push our move week to the last week of the year. We couldn't be down for more than a week, so they stepped in with a monumental effort to get all the new equipment installed, but more importantly, to move and re-install the equipment we already had in our old location.
On the moving days, Stan (Burkhart Account Manager) was there to help and carried a lot of boxes and heavy items. Our team was really impressed by this. Tim (Burkhart Service Technician) had planned out the week to make sure he had the help to get it all in and tested. Tim brought in other techs from the region and they really hit it hard.
What should have taken five days was mostly done in three and gave us the chance to get in and really test things before opening day. That took so much stress off me and the team to know it would be a smooth first day. Tim and the Burkhart team were there on the first full day of operation to head off any problems and make sure our team knew how to use and maintain everything.
We Can Realize Our Full Vision & Easily Compete
Q. What has the new office meant to the success of your practice?
It has meant we can finally realize the full vision we have. The landscape in dentistry is changing and solo practices will become a smaller percentage of the practices out there. Corporate and chain entities are increasing. We can easily compete with these types
of practices by having a facility that is nicer than they can create, the space for multiple doctors, and we can attract the best team members in the area to work for us.
Q. What advice would you give to a doctor who is considering building a new office?
Don't wait. A big investment like that is recouped over time — so the sooner you do it, the better. Meet with your dental supply team and discuss your thoughts with them. Find out what they can provide you with as far as planning and design services. Start putting some sketches on paper and get the ball rolling. The pieces will start to
come together, and your fears will diminish.
Even if there are delays or the timing doesn't prove to be right, you will be more prepared when that time comes if you start real planning now. Once the first pieces fall into place and momentum is moving in that direction, the team around you will carry you across the finish line. Don't be afraid to involve your staff in various parts of the planning. It lets them see the vision and have input into what will get them excited about working in the new space.
---

Kids Corner
The new office has a "kids' corner" for children of adult patients during the parents' dental appointments. This can make patients feel more comfortable and relaxed knowing their children are entertained and occupied. The kids' corner includes:
iPads

Charging stations for phones and electronics

Squishy chairs

Nooks and quiet pockets of space

Beverages and snacks
---
PRACTICE SIZE 6,000 Sq. Ft
BURKHART ACCOUNT MANAGER Stan Lecher
BURKHART EQUIPMENT SPECIALIST Russ Cornelius
CONTRACTOR BP Builders LLC
ARCHITECT Lamar Johnson Collaborative
---
Realize your dream office potential and talk to your Burkhart Account Manager today. Learn more about Burkhart's Office Planning & Design capabilities.
---
Written by Denise Ploof
Photos by Randy Henderson
Category: Office Planning & Design
Back to Articles