The Anaheim outbreak in 2016 is arguably the most pivotal event for dental unit waterline maintenance. As it came to light, 72 children were confirmed to be positive for mycobacterium abscessus infections.
The children experienced swelling and pain in their mouths with 98.5% of those infected requiring hospitalization and surgery.
You may have seen the coverage on Good Morning America, NPR, in the Washington Post, or at least heard about it from dental infection control experts in the years since. The infection was tied directly back to bacterial contamination within the practice's dental unit waterlines. A year earlier, a similar outbreak occurred in Georgia, resulting in at least 27 patients testing positive for mycobacterium abscessus.1 
The culprit? Again, dental unit waterline contamination. While outbreaks of this capacity are unusual, infections caused by poorly maintained waterlines are more common than you might think. A detailed study in 2020 of dental unit waterline contaminants revealed that "high and unacceptable total viable counts of heterotrophic bacteria and/or coliform bacteria and Pseudomonas were detected in 73% of the samples."2

In 2017, John A. Molinari, PhD, and Nancy Dewhirst, RDH, BS, compiled data for the largest study on waterline treatment efficacy ever conducted. The study found that 31% of treated dental unit waterlines fail to meet the standard of safe water (≤ 500 CFU/mL).3 
It's for this reason that regulatory and advocacy agencies have increased their attention in this area of infection control. 
In 2018, the Organization for Safety, Asepsis, and Prevention (OSAP) outlined waterline testing recommendations for dental practices to ensure their dental waterline maintenance protocols were indeed protecting their practices and patients. 
"If monitoring results indicate that water quality is acceptable for two consecutive monthly cycles, the frequency of testing may be reduced, but should not be less than every three months."4
Similarly, A-dec, Midmark, Belmont, Ritter, Forest, and other dental unit manufacturers now have similar testing frequency recommendations for their customers to ensure they stay in accordance with best practices.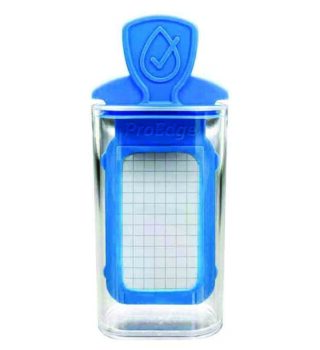 Most recently, the Washington State Dental Quality Assurance Commission has released new regulations requiring all dental practices to test their dental unit waterline quality every 90 days at a minimum.5 These regulations were put into effect on December 1, 2021, with the intention of protecting patients and ensuring that offices are operating with a high quality of care. 
QuickPass® is the only in-office water test designed specifically for the dental industry.
Each of these instances provide a foundation for the future of waterline testing. Practices that invest in the quality of their water are not only demonstrating best practices but are also demonstrating the quality of care they provide to their patients.
The team at ProEdge Dental Water Labs believes the best quality of care includes the use of safe water during every patient visit, and that can only be confirmed through proper water testing and documentation. 
Get Started With QuickPass®
We recommend you start with an in-office water test, like the QuickPass In-Office Dental Water Test. It is more cost effective than mail-in water tests (~61% savings based on product MSRP), you can conduct the test in the privacy of your office and obtain results quickly in just 48-72 hours, and passing results are proof that you are providing the highest quality of care to your patients. 
Water Testing in 3 Easy Steps

---

Step 1
Take a water sample direct from waterlines
Step 2
Let the paddle soak up water for 1 minute
Step 3
Incubate for 48-72 hours and record results
Many dental practices are just getting started. But as you do, you very well may hear your patients giving high praise to the quality of your care. 
QuickPass® features advanced media that makes bacteria grow red and orange so testing results are obvious and clear.
Like this dental professional who uses QuickPass said, "We had a patient ask us what [QuickPass] was, and when I explained, he was really impressed that we took extra precautions for patient protection. He then went on to refer his whole family to us."
---

Published in TIPS – March/April 2022. Submitted by ProEdge.
Category: Merchandise
Back to Articles