For Burkhart rep Jason Corbin, there's more than one type of goal.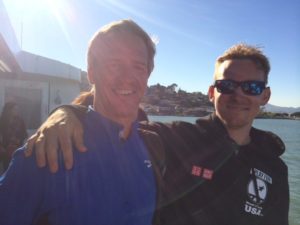 As far as Jason Corbin could see, his college degree in biology led to two options: teaching or graduate school. In fact, when he graduated from University of Tulsa nearly 20 years ago, a career in sales was the farthest thing from his mind. "I never even thought about working in sales," he laughs. "I happened to go in for a teeth cleaning and my dentist asked me about my plans. She referred me to Jack Powers at Burkhart Dental Supply. I ran with her lead, and it worked out!" At press time, he was approaching his 20-year anniversary with the distributor.
A career in dental products sales, it turns out, was great for Corbin – and good for the industry, too. The account manager has earned a place in Burkhart's President's Club annually for the past 11 years. He attributes his success to perseverance and tenaciousness. "Follow-up and persistence is very important in this industry," he explains. "Much of what we do is relationship-based, so we really need to listen to the whole dental team in order to be a problem-solver." Sales reps often seek meetings with those in the office who make the purchasing decisions, he adds. "But, it's very important to support the entire dental team."
Additionally, sales reps must approach each meeting with a solid game plan, he continues. "We must differentiate ourselves. We're not just there to save our customers money, but also to increase their efficiency and their ability to provide great patient care."
Fieldwork
For the past six years, when he wasn't in the field meeting with dental customers, Corbin spent a lot of time on the soccer field, helping organize street soccer games for Tulsa's homeless community. The national philanthropic organization, Health U.S.A., has about 20 soccer teams – called Street Soccer U.S.A. – across the country. Together with his college friend and fellow soccer player, Brian Majka, Corbin helped found the Tulsa chapter of Street U.S.A.
"We developed a relationship with organizations, such as the Salvation Army, John 3:16 Mission and the Tulsa Day Center for the Homeless," he explains. "These groups helped us set up meetings," he says. "This was an opportunity for Brian and me to introduce soccer to homeless people in Tulsa." But, the soccer league served as much more than a sports outlet, he points out. "The team generally attracted homeless men. We not only taught them how to play soccer but encouraged them to reconnect with their families and the community. Homeless people often lose touch with their families. When possible, we'd help them find jobs."
It helped that both Corbin and Majka are married to counselors with the skills to guide them. Still, they invested much time, effort and emotion in their players. "We were two well-dressed guys trying to establish some trust and explain [to the homeless community] what we were trying to do," he says. "In the early days, we'd stop by shelters and try to get people to sign up.
"We'd set aside our Friday afternoons for practice," Corbin continues. "Often, we had no-shows, or people arrived to practices late. And, if they showed up altered, we couldn't permit them to play. Sometimes, only a couple of guys would show up and we'd just end up talking. We'd find out how their week went or buy them a meal."
Additionally, there was a need to raise money, he points out. "Each year, we'd participate in a national tournament," he says. "We'd fly between six and eight team members (18 years and older) to the tournament, which took us to cities such as New York City, where we played in Times Square; San Francisco, where we played in front of the Capitol Building; and Philadelphia, where we played at the base of the Rocky Steps in front of the Philadelphia Museum of Art." Raising the necessary funds involved various church fundraisers, designing/selling t-shirts and more. A couple of former soccer players from University of Tulsa helped out as well, including a street performer who would donate his earnings and a punk rocker who had his band donate their proceeds.
The good and the bad
In the six years he coached soccer, Corbin saw many lives improve, in spite of past hardships. "We helped several people find jobs," he says. "We'd help them fill out their job applications and get their driver's license." Sometimes it came down to helping someone pay a small fine he owed – but couldn't afford – just to help him move forward.
"Some of these people had endured mental or physical abuse or had been in and out of foster care growing up," he says. Others came from a privileged background but, for one reason or another, their life was temporarily derailed. "One man was a soccer player in college," he says. "He blew his knee out and was prescribed pain killers, which eventually led to heroin use. We met him when he was in his young 20s and had been living on the streets as a heroin addict for two or three years. He had to visit a methadone clinic daily." Happily, his story had a positive ending. "He has since reconnected with his family, and his brother and sister came out to see his first soccer game. It was a powerful success story – and actually our first success story."
Some stories, however, did not play out so well. "There was one man, Victor, who came from a broken background," Corbin recalls. "His mom was in prison for using drugs. While there, she died of cancer. Victor was a very good athlete, musician and fisherman. At one point, he lived with Brian for a week or two." Unfortunately, like his mother, Victor battled a drug addiction. "He would disappear for weeks at a time. We'd reel him back in every so often, but in the end, he went to prison for selling drugs."
Then there was Jeff. "Jeff was an electrician," says Corbin. "He was divorced and had a daughter. During one of our soccer games, he suffered a compound fracture. He had issues with drug addiction, but he required pain medication. And, now he couldn't play soccer." It was a perfect storm. "Brian took in Jeff for a couple of weeks, and we found a surgeon willing to donate the time and resources to reconstruct his leg." Jeff's life took a turn when he moved to California and reunited with a former group of friends – and his old lifestyle of drug use. "But he could walk again," Corbin adds.
Indeed, there are different kinds of success, Corbin discovered. For the most part, though, "we defined it as staying drug-free, having housing, reconnecting with family and looking for a job. The majority of our people were short-term successes." Particularly since players could only attend one national soccer tournament, they sometimes lost interest in the program after a year. Still, in the six years he and Majka helped run the soccer club, they coached as many as 100 players – nearly 60 of whom went to the tournament.
"My experience coaching a soccer team for the homeless community in Tulsa has taught me compassion," says Corbin. "It's made me more compassionate toward other people and has taught me the value of developing relationships." And that's not a bad skill to have when working with his dental customers, he notes. "Coaching/teaching is great training for speaking to dental teams."
Recently, as his own children are getting older and more involved in activities, Corbin has found it a bit more difficult to stay as involved in his soccer program. "Now it's time to coach my own kids!" he says.
---
Published in First Impressions Magazine, June 2018
Category: Giving Back
Back to Articles