Dr. Travis Burkett with Drumright Dental Center in Drumright, Oklahoma, enjoys restoring and preserving beautiful smiles in his hometown. But above all, he "wants to be known for being more than just a dentist," he says. "I want to leave a legacy of giving. Anyone can do that―rich or poor―you don't need any money to change someone's life." 
Do you agree?
Doing Jobs Nobody Wanted
Drumright Dental Center opened in 1992. Dr. Burkett started working there when he was 16—doing jobs nobody else wanted, he says. He came back in 2007 as a dentist and bought the practice from Dr. Robert H. Melton in 2008. The practice has six doctors and a team of 33 in tiny Drumright, Oklahoma: population 2,900.
Bigger & Better
When the current facility was built in 2005, Drumright Dental Center had six patient chairs. It expanded to nine chairs in 2009. Construction began in July of 2018 expanding to include fifteen chairs. The practice averages 210 new patients a month and revenues grew to nearly $5 million in 2017. The Drumright Dental Center team treats adults and children, has 32,000 patients of record and draws patients from a 100-mile radius.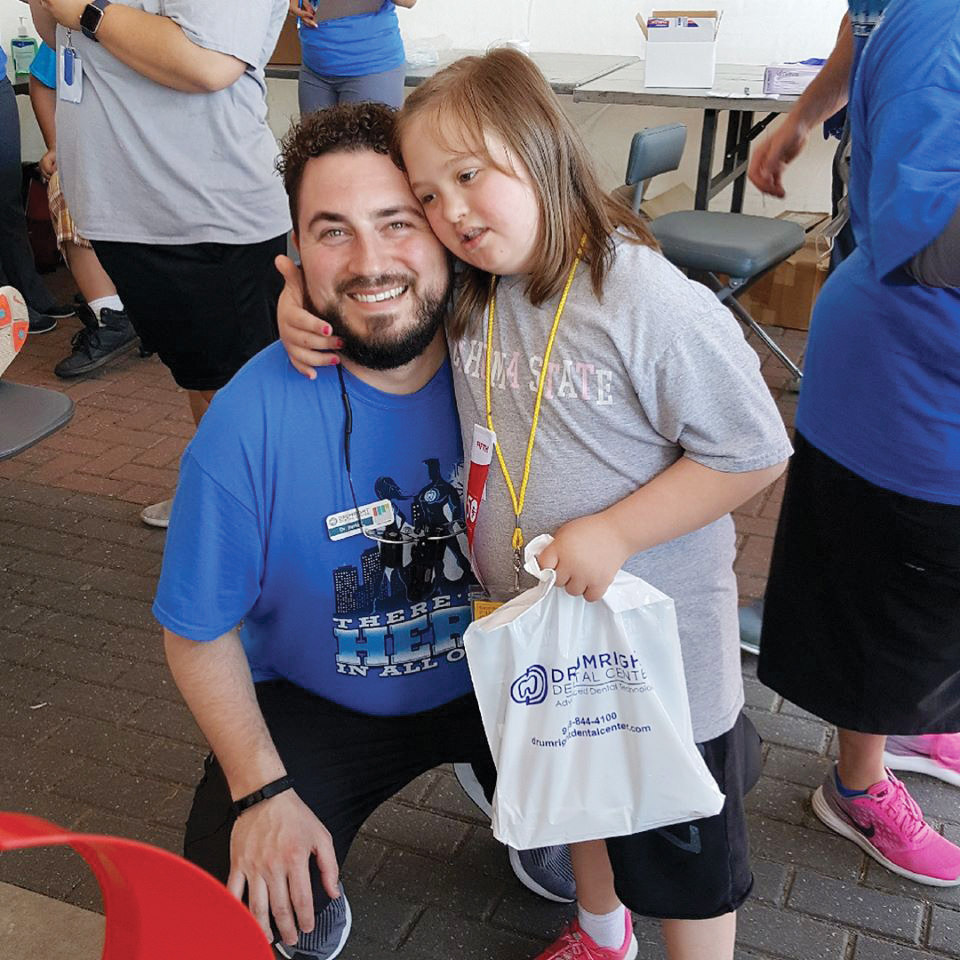 Dedicated to Those with Disabilities: 15 Minutes of Hugs
Dr. Burkett has continued and expanded on the tradition of giving back started by Dr. Melton. "We are one of the few practices in Oklahoma that makes treating special needs patients a priority. It's part of our mission statement," says Dr. Burkett. "Our goal is to make sure every special needs patient is seen by a dentist in Oklahoma."
It not only takes compassion and understanding to care for special needs patients, but it may take longer to treat them, he explains. "Sometimes for those with special needs, it takes 10-15 minutes of hugs before you start. We are invested in spending this time with our special needs patients. The number of providers on our team allows us to provide quality care and stay on time with our schedule."
---

Dr. Travis Burkett

"We are one of the few practices in Oklahoma that makes treating special needs patients a priority. It's part of our mission statement."


---
Special Olympics: A Perfect Partnership
Every year, Drumright Dental Center shuts their office down for two days and sends their team to the Special Olympics Oklahoma Summer Games to run its Special Smiles program. Dr. Burkett is Clinical Director for Special Smiles which offers dental exams, health education, prevention services, and refers athletes to potential sources of treatment and follow-up care.
Special Olympics is the world's largest sports organization for children and adults with intellectual disabilities, providing year-round training and competitions to over 5 million athletes in 174 countries.
Loving & Caring for Those with Disabilities
"Dr. Burkett and his staff are amazing with our Special Olympics athletes in the love and care they show them," says Derek Cain, Vice President of Development & Marketing, Special Olympics Oklahoma. "Drumright Dental Center has made individuals with intellectual disabilities a top priority," he adds. "They specialize in serving them and realize our Special Olympics athletes are no different from you and me and deserve quality health care."
The thing is, besides volunteering at Special Olympics, the Drumright team holds fundraisers such as an annual flag football tournament to raise money for the organization. "Drumright Dental Center has become one of Special Olympics Oklahoma's top donors,"
says Cain.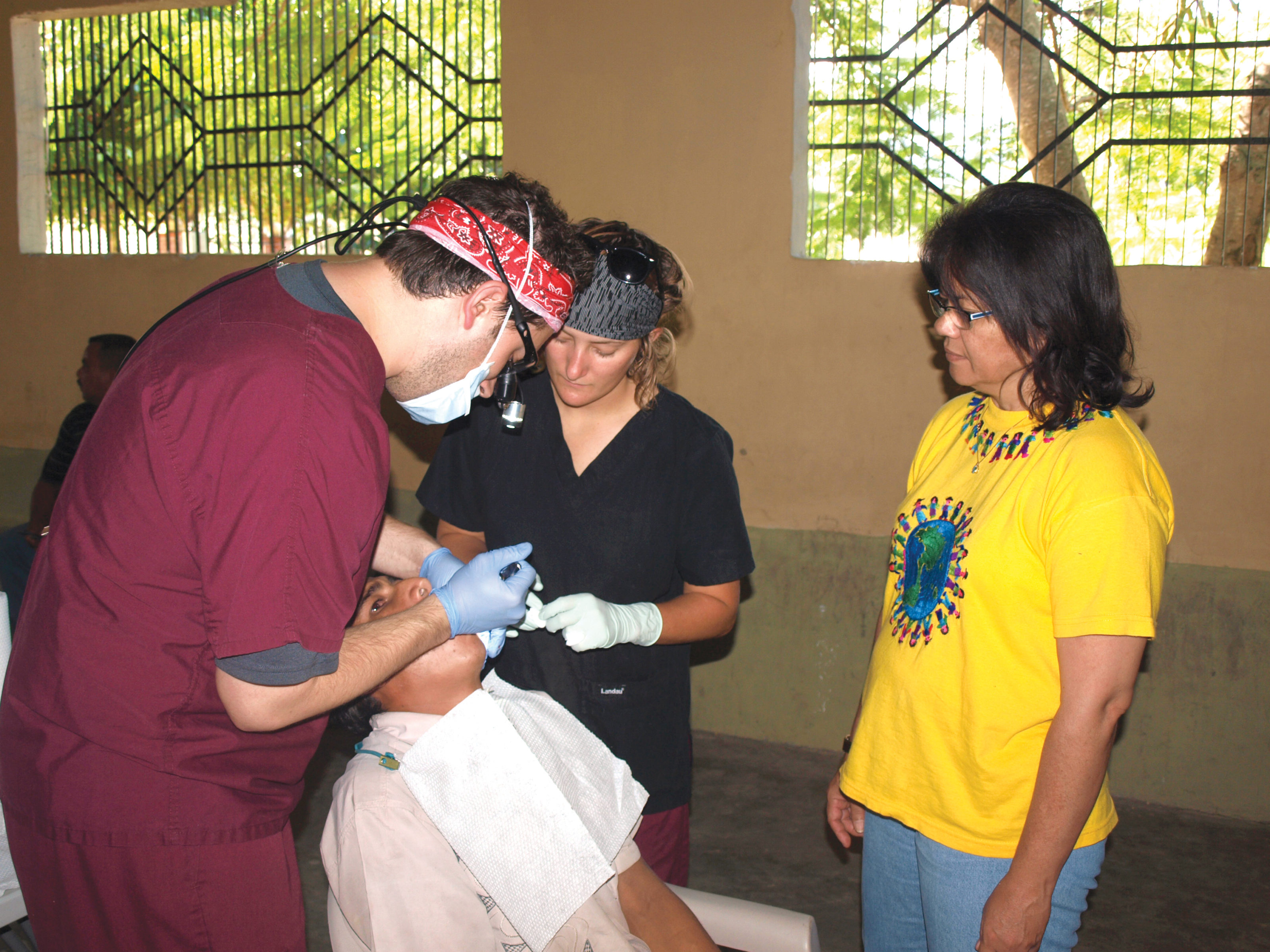 Kicking Kids' Pain to the Curb
Drumright Dental Center sends 8-12 team members on mission trips to Central or South America every year. They provide free dental services to patients who have never had or had limited access to dental care. The volunteer dentists, hygienists and dental assistants work together to give patients care they desperately need.
They recently treated 386 patients in Morazán, Honduras, at a mountain-top school for special needs students. The team slept on the floor with no daily guarantee of running water or electricity. Putting their own comfort aside, and working in conditions unfamiliar, they extracted infected teeth and were able to reduce or eliminate patients' pain that may have persisted for months. Without the dedication of the Drumright Dental Center team, these Hondurans may not have experienced relief of pain and hope of better days.
Love Thy Neighbor
Eight years ago, Drumright Hygienist Cynthia Bassham, RDH, couldn't attend one of their annual mission trips. Her idea: could we do a one-day mission trip locally? Dr. Burkett said yes, put her in charge, and Love Thy Neighbor was born.
It's now an annual Drumright Dental Center event that provides free dental services to those who have no access to dental care. In this year's event, the team provided 58 full or partial dentures to veterans and produced over $200,000 of free dentistry to the people who needed and deserved it the most.
"Our team grew that day and learned so much about the veterans we saw," says Drumright Director of Operations Barrett Shupe, "and it was awesome to hear their stories."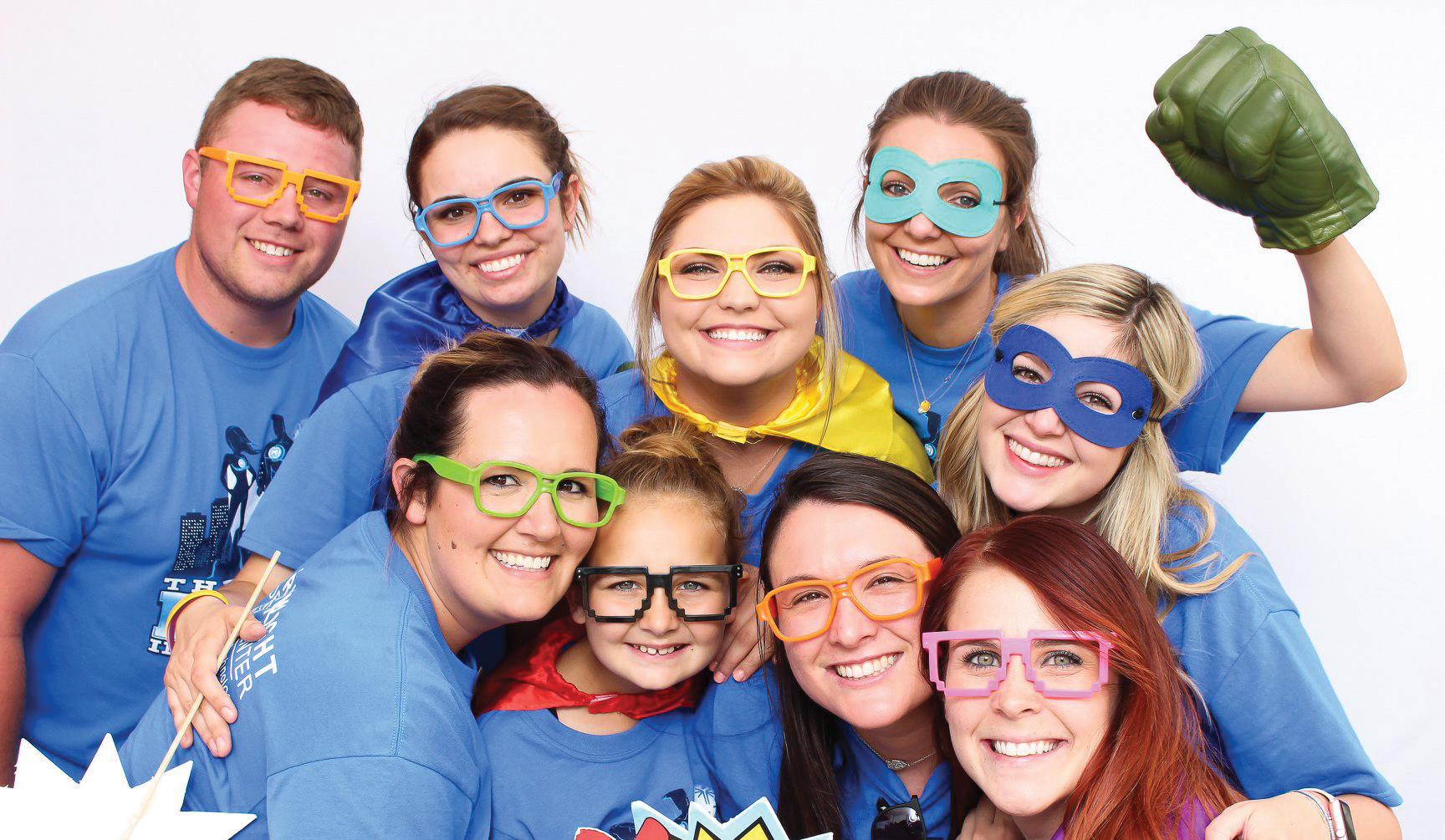 On Top of the Heap
Burkhart Account Manager Jason Corbin has worked with Drumright Dental Center and seen the practice flourish. "It's been amazing to watch them grow into one of the most successful and well-run dental practices in Oklahoma over the past 20 years. While there are multiple reasons for their success, I believe the commitment to their community is what stands out," he says.
Besides the Drumright team helping patients at Special Olympics, through their mission trips and Love Thy Neighbor project, they support other community organizations and local schools with scholarships, sponsorships and dental screenings. On top of that, they bought Drumright High School its first activity bus.
"Whether it's raising money for multiple charitable organizations, taking mission trips abroad, or having a 'free dental day' for the Drumright community," says Jason, "Dr. Burkett (and his team) have raised the bar on what it means to be
a pillar of the community."
Keep on Truckin'
Barrett with Drumright Dental Center looks forward to continued growth and community impact. "I know we can continue to grow and be the best versions of ourselves every day. We strive to impact those we come in contact with in a positive way."
Anyone Can Make a Difference
What's been significant to the Drumright Dental Center team about their community efforts? "Our increased involvement with Special Olympics and going on mission trips has given our staff a greater appreciation of what we have," says Dr. Burkett. "These types of outreach show that anyone can make a difference in the world. You just have to be willing to take the first step."
Just Do One Thing
How would Dr. Burkett encourage other doctors to be more involved in giving back to their communities? "People may think they don't have the time or money to give back," he says. "I would encourage other dentists to just do one thing, start small, and see how they feel after. I guarantee they will gain more than they give and learn something about themselves. You can't put a price tag on that."
Who is This Giving Guy?
Dr. Travis D. Burkett grew up in Drumright, Oklahoma. His parents are both coaches and teachers. Sports had a strong impact on him. He especially loves football and sees a lot of parallels between football and everyday life. "Just like in football, in everyday life, you're expected to get knocked down and get back up," he says.
He attended Drumright High School and graduated from the Oklahoma School of Science and Mathematics at Central Tech in 1999. Dr. Burkett graduated as a Chancellor's Scholar from the University of Arkansas with a bachelor of science education in kinesiology in 2003. In 2007, he completed his doctor of dental surgery at the University of Oklahoma College of Dentistry.
Dr. Burkett serves on the board of directors for Special Olympics Oklahoma and for EPIC Charter Schools. He's also the Clinical Director for Special Smiles, a program of Special Olympics Oklahoma.
What Makes Drumright Dental Center Tick?
Heavily influenced by sports growing up, Dr. Burkett believes in teamwork and setting ambitious goals. Seriously. Drumright Hygienist Kara Morris, RDH, puts it, "The main thing I've learned this year is that it doesn't matter how high your goals are set. If you set them high enough, even if you don't reach your goals, you're going to do way better than you ever thought possible."
The Drumright Dental Center practice goals are to:
Have every special needs patient in Oklahoma seen by a dentist
Be the biggest Special Olympics donor
Double everyone's salary
Get everyone out of all personal debt
---
Learn more about Drumright Dental Center's giving back on their Community page on their website.
---
Written by Denise Ploof
Photos by Adam Murphy and submitted by Drumright Dental Center
Category: Giving Back
Back to Articles