One hygiene opening per day (prophy, exam and bitewings) costs $212 on average in lost revenue – that's $40,704 over the course of a year.
Your hygiene department is the backbone of your practice; having a solid recare system in place is key. Hygiene services are a great way to ensure a steady cash flow and provide opportunities to diagnose treatment.
Unfortunately, other tasks often take priority. To be effective, you must set aside time each week to connect with overdue patients.
By creating a recare system your patients benefit from customized care, unique to their needs. The team approach helps everyone closely monitor areas of concern and supports the front office when scheduling. Using written correspondence and verbal scripting allows maintenance of the recare system and identifies inactive patients.
Our goal is to help you stop reacting to an open hygiene schedule which allows you to proactively and effectively plan.
It's a TEAM approach!
Scheduling Coordinator
Organizes the recare system
Updates monthly reports
Identifies collection accounts
Adds chronic no-show/late cancellation patients to the short-call list
Identifies additional treatments and areas of concern that add value
Contacts patients monthly, asking for help when needed during your morning huddle
Keeps printed/digital recare reports accessible for viewing and updating
Hygienists
Identifies and records patient areas of concern that bring value to the appointment
Notes soft tissue concerns and areas the Dentist is monitoring
Updates recommended hygiene interval when changes occur
Schedules appointments for 90% of patients at the time of service
Dental Assistants
Helps contact patients when needed; this need can be identified during your morning huddle
A few actions to take prior to contacting patients:
Identify no-show or late cancellation patients.

Add them to your short-call list and flag them in your practice management software
 Schedule them as their due date approaches – or only offer same-day openings

Review patient accounts for overdue balances before offering hygiene recare.
Due to complexity, prioritize and schedule patients requiring periodontal maintenance or that have areas of concern. It can be more effective for the hygienist to contact these patients, as time allows.
As a goal, schedule 90% of your hygiene patients at the time of their visit.
Manage the remaining 10% with the process outlined in the chart below.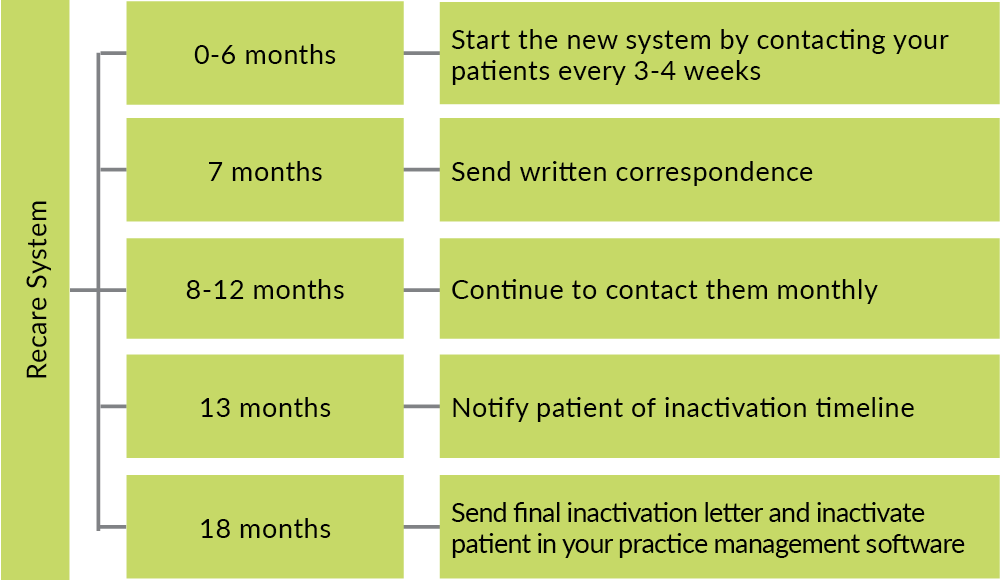 On average, dental practices annually experience 12% attrition. By creating a recare system, your patients experience customized care, unique to their needs – while allowing your team to manage a productive schedule!
---
Your success is our success. Please reach out to us anytime.
Learn more, visit the Practice Support Team page, call 1.800.665.5323 or email us at PracticeSupportTeam@BurkhartDental.com

Category: Practice Consulting
Back to Articles