One million things run through your head on a daily basis. That's a rough estimate but our best guess. As a dentist and business owner, you wear a lot of hats. Burkhart's Practice Support Team can discuss what's keeping you awake at night and how we can help.
Since 2018, Nate Lewis, DDS, and his team in Sandy, Utah, have worked with Burkhart's Practice Support Team's Senior Consultant, Kathy Edwards, RDH. We talked with Dr. Lewis and his hygienist Jen Koester, RDH, to find out about their experience with the Practice Support Team and the Practice Analysis, a popular overview comparing a practice's data to benchmarks.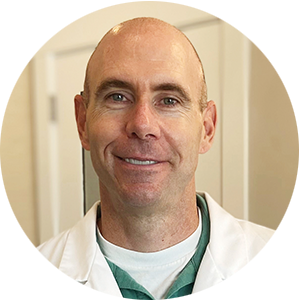 Different Ways to Increase Revenue
"Our experience with Burkhart's Practice Analysis has been good, wonderful, fantastic," says Dr. Nate Lewis. "Kathy Edwards is very knowledgeable and brought a lot of things to light we were not aware of. She taught us different ways to look at things – things we've been missing that helped increase our revenue."
Adding to the Bottom Line
"Kathy made recommendations such as different coding and x-rays – some simple things like that – but now we are able to give patients better care. She helped us become more knowledgeable about using proper ADA codes for the various hygiene patients and the conditions they present with. We are now using some billing codes we didn't know existed – using codes to their full potential," says Dr. Lewis.
"We changed some things we weren't doing that have added to the bottom line," explains Dr. Lewis. "They were small changes—but, over time, have really added up." A growth opportunity was identified in shifting periodontal coding protocols resulting in a $44,680 annual increase in production.
Easy Implementation
"Burkhart's team is very knowledgeable," says Dr. Lewis. "They give you easy tips to do what you're doing and make it better. And it's free. Some things are small and give you good return. Sometimes people need to point things out. We all want our practices to be better – but how? Burkhart can help with that."
Maximize Patients' Insurance Benefits
"We have lots of families, and people can't afford to do everything," he says. "We want to give the best care possible and the best dentistry their insurance will provide. We were able to do a couple easy things to give better value and maximize our patients' insurance benefits. It was nice to look at our practice and make some small improvements and bigger things we can work on over time "
Dr. Nate Lewis' Relationship with Burkhart Dates Back to 2018
"I first started supporting Dr. Lewis in 2018," says Kathy. "At that time, we narrowed the immediate focus to using fee tables within their software system, reducing outstanding accounts receivables, increasing and balancing fees, and studying the patient demand and hygiene availability for optimal hygiene staffing. This led to a great relationship with his front office team who reached out often for support to incorporate changes."
Work Closely with Hygiene Team
Dr. Lewis asked his hygienists and assistants to be part of the process, so they could express their challenges and strategize different solutions to meet their goals. This made it easier for them to implement the recommended strategies.
More Treatment for Patients Insurance Pays For
"Kathy went over billing codes we weren't familiar with as well as different ways to schedule to get better production," says Jen Koester, RDH. "She helped us to maximize our production. Using some of the different codes, we've been able to provide more treatment for patients which their insurance would pay for," she adds.
A Tremendous Value
"Burkhart's services were a tremendous value to us," adds Dr. Nate Lewis. "It's been great. Some recommendations have been just adding a step – not a whole philosophy change. But even with the minor changes, doing them with every patient – it really makes a difference. It really adds up," he says.

Complimentary Consulting to Help Your Business Grow
Burkhart's Practice Support Team is a free consulting and practice management service available to Burkhart's valued clients. With clinical and business expertise, the experienced team is dedicated to supporting your practice, answering questions, and making recommendations.
Moving From Good to Great
"We have all the resources and experience to help clients go from good to great," says Kathy. With just a coding report and fee schedule generated by the practice, the Practice Support Team can generate valuable data and insights.
Examples of the data include the number of active patients, annual patient value, case acceptance for higher fee services, the hygiene contribution to production, periodontal philosophy of care, new patient count, and an ROI for CAD/CAM and implant placement. The team also reviews coding history to make sure the practice is maximizing their reimbursements through proper coding of procedures provided.
---
Learn more about Practice Support & Consulting or Practice Analysis, call 1.800.665.5323 or email us at PracticeSupportTeam@BurkhartDental.com.
---
Written by Denise Ploof
Published in Catalyst – Fall/Winter 2021.
Category: Practice Consulting
Back to Articles