Utah-based Dr. Jeremy Ellis' Dental Glass Pin — a fiber optic glass pin for chipped and broken tooth repair — is a Burkhart Dental Supply exclusive.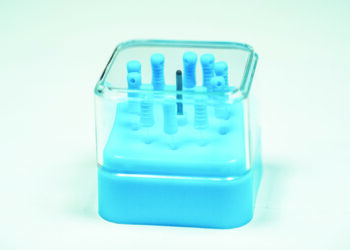 TACOMA, WASH. (Feb.1, 2023) — Burkhart Dental Supply is proud to be the exclusive distributor for Dr. Jeremy Ellis' Dental Glass Pin.
As a dentist for more than 23 years, Ellis has completed a variety of different tooth repairs. When it comes to anterior repairs, he was frustrated by the difficult traditional treatment process and its poor long-term outcomes. Ellis began assessing the molecular structure of the tooth and all associated anatomy and realized a device that would have similar properties of the tooth would work best.
After helping his daughter with a science project using fiber optics, Ellis started placing fiber optics in extracted teeth and then bonding composite to the fibers.
The results led to the creation of the Dental Glass Pin — a cylinder of fiber optic glass with similar properties to the tooth. It bends and flexes with the tooth yet has properties that allow it to bond with the tooth's enamel and/or dentin, and to any adhesive restorative system to repair the tooth. This solution eliminates or postpones the use of traditional crowns, caps, or titanium pins, and it works with any composite products that dentists are already using, Ellis said.
Since creating the Dental Glass Pin, Ellis has performed more than 160 restorations and has recorded only five failures in 10 years.
"Dr. Ellis is a longtime Burkhart customer, and we are honored he has put his trust in us to be the exclusive distributor of this innovative solution to tooth repair. We are excited to see how the Dental Glass Pin will continue to revolutionize the dental industry," said Phil Salderno, Burkhart Dental Supply Director of Equipment, Merchandise & Technology.
About Dentistry Elevated:
Dentistry Elevated, LLC is based in Northern Utah and was started by a dentist looking for a new solution to provide a better treatment for broken teeth for his patients.
About Burkhart Dental Supply:
Headquartered in Tacoma, Washington, Burkhart Dental Supply has more than 400 employees, 10 regional divisions in 18 locations, and three distribution centers. Founded by Dr. William Burkhart in 1888 as an addition to his dental practice, the company provides more than $200 million a year in supplies, equipment and technology, service and repair, practice consulting, and office planning and design to more than 7,500 dentists.
Category: Press Releases
Back to Articles