As dental practices increase their busyness levels, practice owners must decide when the timing is right to add an associate.
Is the practice ready financially? Do you have enough patients to fill an additional schedule? Are systems and staff in place to support another doctor? Can your operatories support increased capacity? We find dentists add an associate for a variety of reasons:
To manage practice growth; the patient base is simply too large for one doctor
To provide the dentist an opportunity to reduce clinical days
To provide additional services currently referred out
As a transition into retirement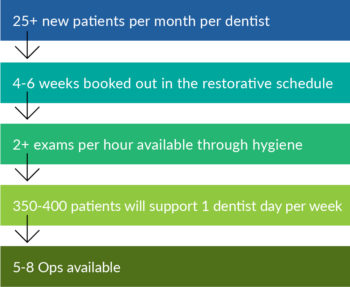 Regardless of the reason, it is important to plan by reviewing existing systems and the financial readiness of the practice.
The healthy benchmarks for adding an associate outlined here, if in place, should provide the new associate an opportunity to meet their financial goals and the owner dentist's goals within a reasonable time. Adding a new dentist requires a great deal of time and effort on behalf of the owner dentist and dental team. The owner dentist will need to offer mentoring and guidance while the team learns different exam styles, scheduling requirements and restorative steps and materials.
It will take time for a new associate to build their patient base.
It is common to see an increase in production but a drop in net revenue during this time. A quicker return will occur if the associate is able to provide treatment often referred out of the practice. While complex cases still require work with a specialist, it may be possible to add additional procedures in house, such as endodontic or limited orthodontic treatment.
Carefully consider the personality and clinical philosophy of the associate to determine if they are a good fit.
All too often, relationships dissolve over personal differences not found during the interview process. Seek legal advice when writing contracts to protect the owner's investment which include a graceful exit strategy in the event the relationship is not the perfect fit.
The timing to add an associate depends on the goals of the owner. Burkhart's Practice Support Team can provide insights to determine if the timing is right for you.
---
Your success is our success. Please reach out to us anytime.
Learn more, visit the Practice Support Team page, call 1.800.665.5323 or email us at PracticeSupportTeam@BurkhartDental.com

Category: Practice Consulting
Back to Articles