Nearly all procedures in dentistry involve exposure to blood and saliva and as a result it is important for dental healthcare professionals (DHCP) to maximize infection prevention. Personal protective equipment is designed to protect the skin and the mucous membranes of the eyes, nose, and mouth of DHCP from exposure to blood or other potentially infection materials (saliva) with face masks being a critical aspect of infection prevention and the first line of defense. The Occupational Safety and Health Administration (OSHA) requires face masks to be worn whenever there is potential exposure to splashes, sprays, splatters, or droplets of blood and other potentially infectious materials(1). This mandate is supported by the Center for Disease Control and Prevention as well as numerous state dental boards. With these risks in mind, DHCP are becoming more discriminating when choosing the optimal face mask.
ASTM Level 1, 2 and 3
Face masks are rated based on five key performance factors set by ASTM International, an FDA recognized institution that develops safety standards. According to ASTM, face masks must be tested and classified as one of the following three levels: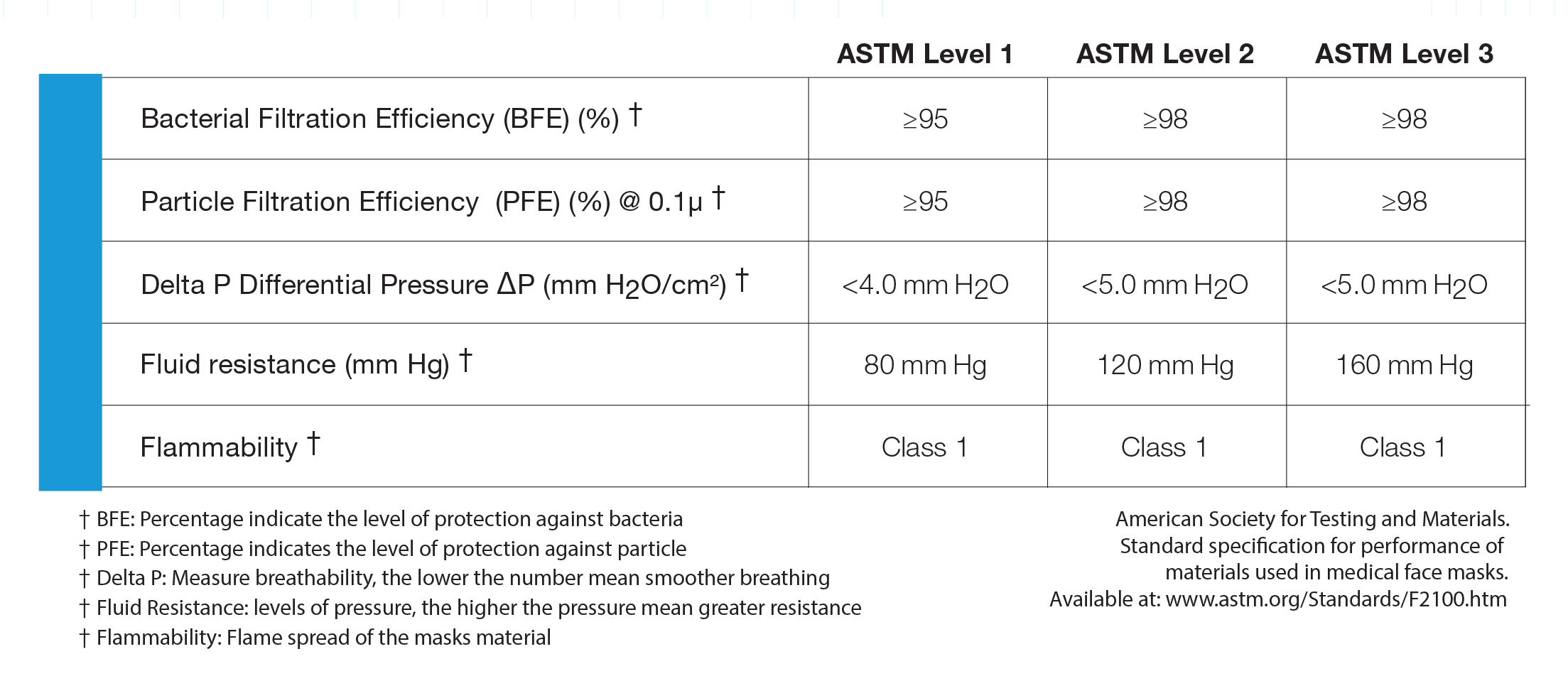 Why ASTM levels are Important
The ASTM standard requires a clear graphic display of the ASTM level printed on the packaging indicating the level of protection provided. It is extremely important that masks have an ASTM level indication on the packaging. Masks with a ASTM Level 1 are considered appropriate for low level exposure related procedures such as patient examinations, impressions and operatory cleaning. For procedures that involve potential fluid spatter, such as scaling, sealants, composites, or oral surgery, Level 2 and Level 3 are highly recommended.
Dental procedures repeatedly take place in the same enclosed spaces and are not always well ventilated. These procedures produce fluid spatter that form aerosolized particles that can remain airborne for extended periods of time. The larger residual droplets will eventually dissipate into smaller nuclei which place DHCP at a constant risk of contamination throughout their work day. Taking this into account, many dental practices are now opting for ASTM Level 2 or ASTM Level 3 face masks as their standard choice for optimal protection and infection prevention.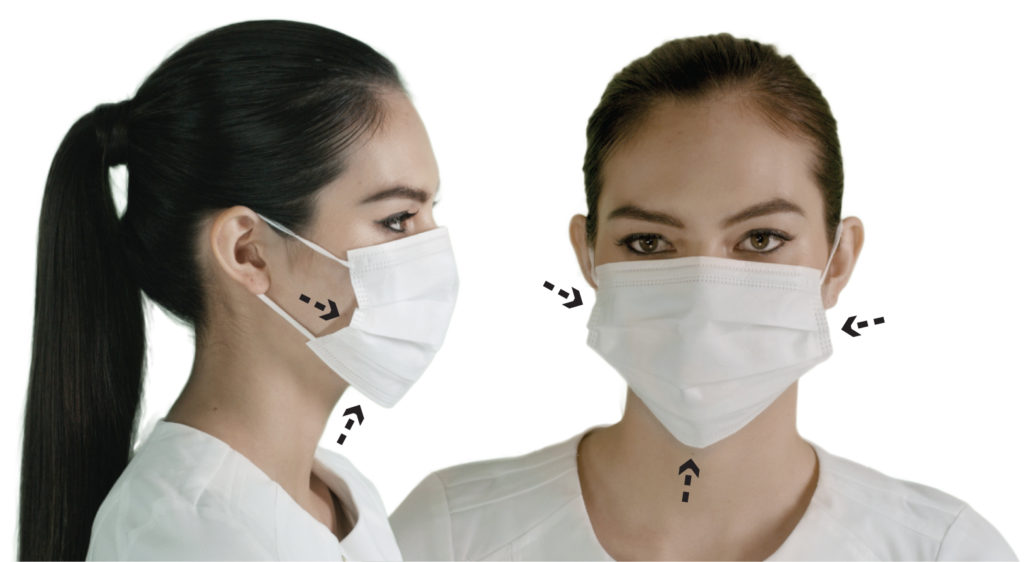 Fit Matters
While the importance of ASTM levels in mask selection have provided dental professionals with key criteria, fit of the mask is equally if not more significant. The fit of the face mask is integral to its effectiveness and the level of protection it provides. A mask that is ill-fitting increases the exposure to airborne bacteria, ultimately leading to contamination. The Center for Disease Control (CDC) advised DHCP to put in place a complete respiratory protection program that includes training and fit testing to ensure an adequate seal between the edges of the face mask and the wearer's face(2).
The most popular type of face masks worn by DHCP are in rectangular pleated form. Even when worn properly, a pleated face mask exposes areas around the nose and mouth due to its standard size and shape that is not suitable for all individuals. When worn there is a noticeable gap along the edges between the face mask and the skin surface which allows the inhalation of unfiltered air. This significantly decreases the effectiveness of the masks' filtration, ultimately the ASTM level is directly related to how well the mask fits.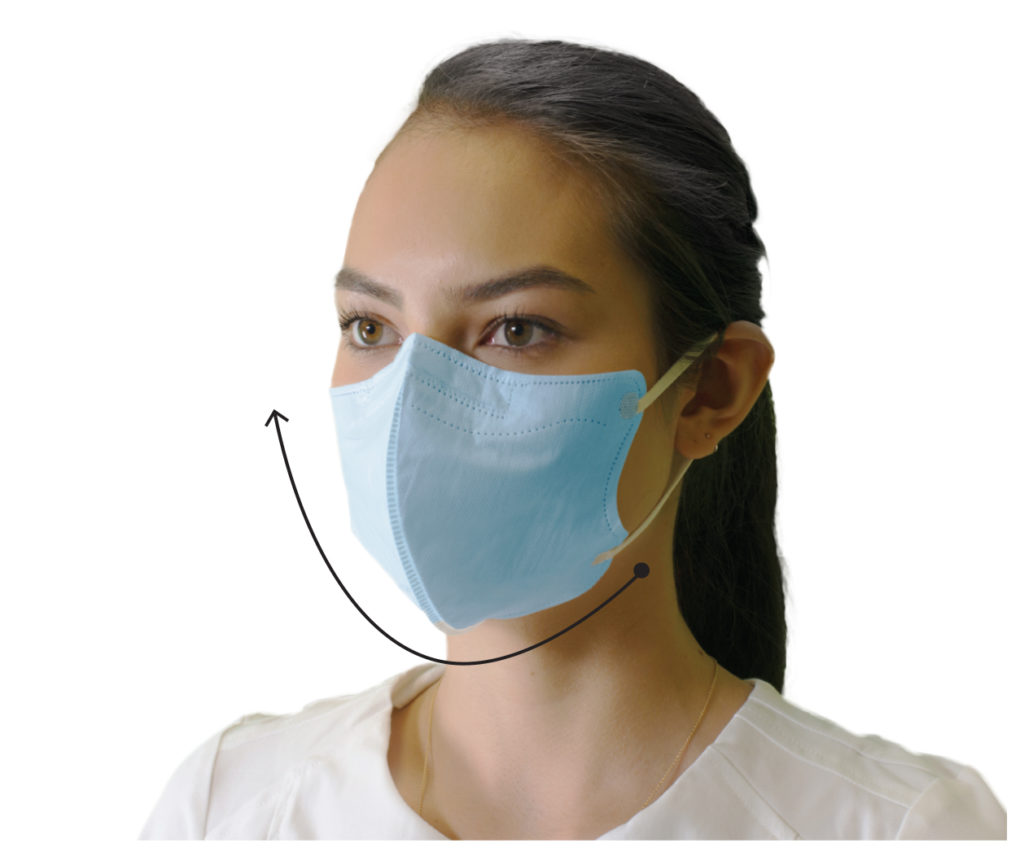 The 360 Revolution
Cranberry has addressed this common issue with the debut of their 360 4-PLY Face Masks, available in both ASTM Level 2 and Level 3, which offers a brand new innovative design for DHCP.  Cranberry 360 Face Masks feature an exclusive 3D design that provides complete full coverage protection. When worn, the mask forms a V-shape that prevents collapse and permits the mask to sit further from the face for extra breathing volume. The sides of the mask are designed with curved edges that allow the mask to lay flat against the skin surface, removing the gap commonly found with pleated face masks. The V-shape paired with the curved edge design provides a complete 360º seal around the nose, mouth and chin that instantly conforms to different face shapes. To ensure the absolute perfect fit, Cranberry also offers 360 in two different sizes, small and regular.
Today, dental professionals are armed with more information than ever as well as technologies designed to maximize infection prevention. Masks represent one of the most important lines of defense against occupational exposure. Understanding options, levels of protection and the importance of a well-fitting mask are key aspects to infection prevention protocols and practices.
---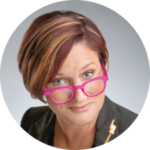 Kristy Menage Bernie, RDH, MS, RYT, an international speaker has been providing OSHA compliance and infection control seminars since 1991. Based in California, she is currently facilitating live webinars to meet mandatory California infection control continuing education requirements as well as seminars internationally on a variety of topics. For more information visit www.EducationalDesigns.com 
Published in TIPS – September/October, 2019. Submitted by Cranberry.


---
SOURCES
Category: Merchandise
Back to Articles