Elevation Association offers practices support and guidance through events and growth reports.
Wood River Dental Care dentists, Dr. Jared Hill and Dr. Dan Nelson, have been running their successful practice for several years. However, like many clinicians, they became overwhelmed with the day-to-day workload and started to struggle with running the business side of the practice.
As a Burkhart client, they were able to receive analyses and guidance from the Practice Support Team. Through a practice analysis, Dr. Hill and Dr. Nelson received feedback on where the practice could improve and how those changes could affect the business.
"When Burkhart presented this to us and showed us the practice's potential, it was shocking," Dr. Hill said.
"Burkhart was great to field all of our calls and all of our questions, walk us through a lot of the report, and why the practice looked this way."
After receiving the report and getting some further guidance from the Practice Support Team, they hired Ryan Passey, a managing partner, to help implement those changes. "That help allowed us to control the practice rather than the practice controlling us," Dr. Hill said.
After implementing the changes, the practice started thriving more than ever, and Dr. Hill and Dr. Nelson became inspired to share their knowledge and experience with other doctors struggling with their practices.
"We really wanted to get together with other dentists to figure out how they were dealing with those frustrations," Dr. Nelson said. "What we found out was that everyone had frustrations as well. So we were working through stuff together. And one of the main components that we used was the initial report from Burkhart."
This desire to help other stuck and frustrated dentists led to the development of Elevation Association, a study group of sorts designed to serve as a growing support system for dentists.
Through Elevation Association, dentists are able to build relationships and learn from each other. Dr. Hill and Dr. Nelson have also developed their own practice analysis, or growth report, based on Burkhart's model to further assist dentists.
Elevation Association exists to improve the lives of dentists, their teams, and their families as much as their businesses. It meets this goal by offering annual professional retreats that include educational lectures as well as fun team-bonding activities.
Learn more about Elevation Association at ElevationAssociation.com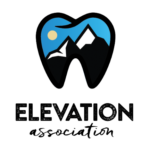 ---
Written by Madison Miller
Published in Catalyst – Q3 2023.
Category: Practice Consulting
Back to Articles