Toppen Health has introduced the first stabilized HOCL tablet in the Dental Industry – DolfinPods™.
Our mission is to provide effective disinfection while keeping the user safe. We also strive to lower the carbon footprint of healthcare by reducing the amount of waste produced by throwing away wipes and bottles.
DolfinPods are convenient, safe, you simply grab a tablet from the box, fill your spray bottle with water, drop the tablet in, and you now have an EPA registered Surface Disinfectant. They have been proven effective against the Coronavirus, as well as all your other organisms.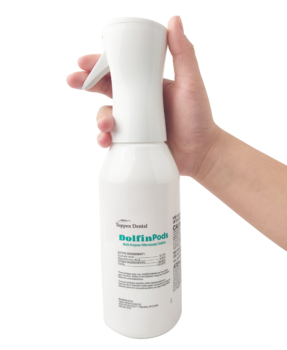 DolfinPods have demonstrated effectiveness against viruses similar to Novel Coronavirus (2019-nCoV) on hard, porous, and non-porous surfaces. Therefore, DolfinPods can be used against Novel Coronavirus (2019-nCoV) when used in accordance with the directions for use against Norovirus, Coxsackievirus B3, and Hepatitis A virus on hard, porous/non-porous surfaces.
The long-term effects of using quaternary ammonium compounds are not known. They are linked to reproductive issues, respiratory issues, skin irritations, and more. HOCL is produced in your body daily and recognized by the body, so you will have no negative response to HOCL, and it's much safer for the staff and patients.
Everyone would like to have plenty of PPE stocked up these days. One box contains 40 DolfinPods equivalent to 40 bottles of disinfectant, all while taking up less than a foot on your shelf. In the box, they are good for 3 years, giving you a long shelf life.
By reusing our bottles and switching to DolfinPods you are contributing to the environment in a big way. Thousands of rayon polyester wipes are thrown away each year, and these sit in landfills for up to 30 years. Your office can also save on disinfectants. Since you are not shipping "mostly water", and reusing bottles. DolfinPods are a very cost-effective solution for your practice.
Save money, space, and reduce waste when using DolfinPods.
---
Submitted By Toppen Health
Permission to publish provided by Toppen Health.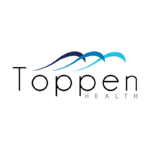 Published in Catalyst – Fall/Winter 2020.
Category: Merchandise
Back to Articles