The AeroPro® Cordless Prophy Handpiece System is designed for just that.
Premier Dental's AeroPro® Cordless Prophy Handpiece System is designed to effectively polish while reducing hand fatigue and aerosols. Using dental products and equipment that can not only improve patient outcomes but also help to provide a safe work environment should be a goal for every clinician. Often a part of every prophylaxis visit, coronal polishing can be strenuous for the hand and wrist and will create aerosol and splatter.1 Factors such as static posture, precise and repetitive motions, and long work hours contribute to a prevalence of musculoskeletal disorders (MSDs) among dentists and dental hygienists ranging from 64-93%.2,3 More concerning, dental hygienists seem to be at disproportionate risk for MSDs compared to dentists with a study showing a higher prevalence of hand and wrist pain in hygienists compared to dentists, 75% versus 38% respectively.4

The use of rotary handpieces (both high- and low-speed), air abrasion, lasers, and ultrasonic units create a cloud of particles and fluid that may contain infectious materials from the treatment site and dental unit water lines. Exposure of dental personnel to this potentially infectious airborne material via aerosol and splatter has long been a concern in dentistry. In a 2004 article from the Journal of the American Dental Association, the authors stated, "While, as with all infection control procedures, it is impossible to completely eliminate the risk posed by dental aerosols, it is possible to minimize the risk with relatively simple and inexpensive precautions."5
Aerosol is defined as small particles less than 50 microns in diameter capable of staying airborne for an extended period of time before settling onto a surface. Splatter consists of larger particles (>50 microns in diameter) that are forcibly ejected from the working area and quickly fall onto a surface or floor because they are too large to remain airborne. Recommended procedures to minimize aerosol and splatter generation during dental procedures include universal barrier precautions, a pre-procedure rinse or pre-procedure toothbrushing, a rubber dam where possible, and use of high vacuum evacuation (HVE) suction.5,6
Introducing the AeroPro®
Based on input and feedback from dental professionals, Premier Dental introduced the AeroPro Cordless Prophy Handpiece System engineered to provide clinicians with greater mobility, choice, and control when performing coronal polishing.
Compatible with most commonly available disposable prophy angles, AeroPro allows the angle to be easily rotated 360° for improved intraoral access. It is controlled using a single button, allowing the operator to easily access the most appropriate prophy cup speed for the procedure. The AeroPro has three available speeds ranging from 500-2800 RPM, and the powerful motor provides constant RPMs and sufficient torque for excellent clinical performance. This reduced speed compared to corded prophy headpieces (maximum RPM of 5000-6000) may be helpful in reducing the chance of overheating the tooth and excess aerosol and splatter generation.7,8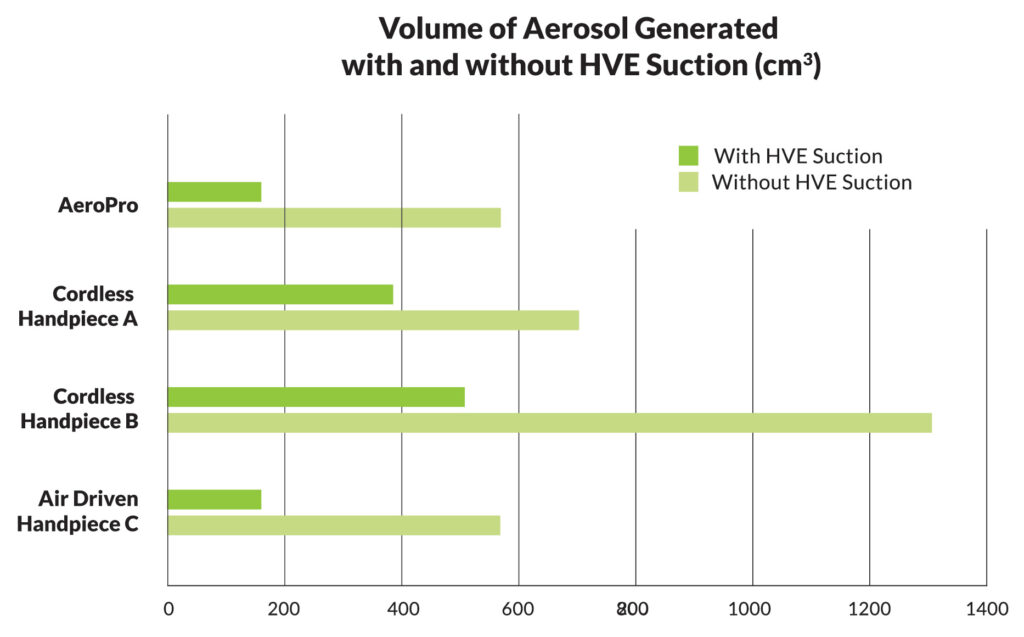 The AeroPro® Cordless Prophy Handpiece creates a better polishing experience for both operator and patient.
Components of the AeroPro®

Can Cordless Prophy Handpieces Improve Operator Safety?
Yes! The AeroPro system was developed to help prevent symptoms of hand and wrist fatigue and to provide a better polishing experience for both operator and patient. From Premier's website, AeroPro is "ergonomic and lightweight with a well-balanced design, featuring a textured grip for reduced pinch strength and hand fatigue." Prophy handpieces have historically been air-driven and unergonomic with tubing connected to a slow-speed motor and straight nose cone. This delivery system can be heavy and create chronic fatigue to the upper extremities, hands, and wrists. The benefits of cordless prophy handpieces to mitigate hand and wrist stress and were confirmed in a study by McCombs and Russell.9 They compared the muscle loads required during simulated tooth polishing using a corded versus a cordless handpiece. Electromyography (EMG) was used to measure the activity of four muscles involved in high pinch force. The results showed a reduced EMG for three out of the four muscles tested when using the cordless handpiece, and an average 30-second reduction in polishing time with the cordless handpiece. The dental hygienists preferred the cordless handpiece over the corded handpieces used in the study. When queried as why, they listed – a lack of cord, less weight, better balance, and low noise – as the main reasons for the preference.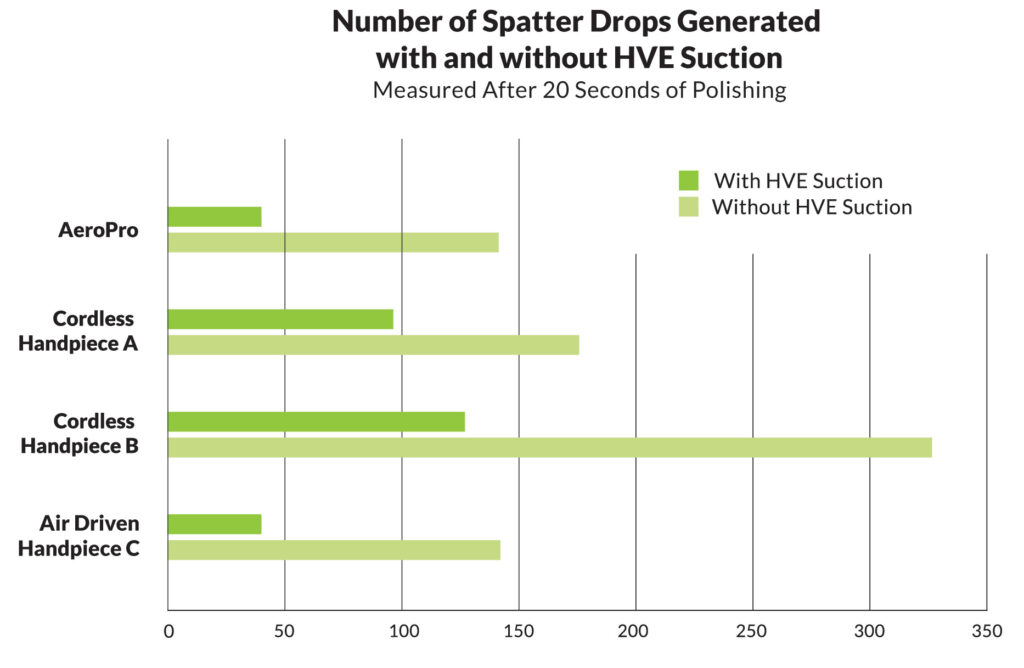 In a recent study from the University of California Irvine, the authors studied the amount of aerosol and splatter generated from coronal polishing using four different handpieces.10 In a simulated clinical environment, the amount of aerosol and splatter was recorded using high-speed photography and video, and the data analyzed using digital imaging techniques. Compared to two other cordless prophy handpieces, the AeroPro generated the least amount or aerosol and splatter with or without HVE, potentially due to two factors:
A low-speed handpiece that still offers the power and torque to deliver effective polishing AND regulated constant speed of the motor that prevents spikes in RPMs.
When HVE was used, the amount of aerosol and splatter generated was reduced by over 70% (see graphs). This data is in agreement with another recent study recommending the use of HVE during oral prophylactic procedures.11

Closing Thoughts
Because of the nature of clinical dentistry – static posture, precise and repetitive motions, long work hours, and sub-optimal ergonomics – all members of the clinical team are at risk for MSDs. Dental hygienists especially may be at an increased risk for MSDs compared to dentists and must practice preventive strategies to maintain hand and musculoskeletal health. Factoring in the risk to dental personnel of using aerosol and splatter generating tools, it is imperative equipment can not only deliver efficacy but also improve safety be chosen. Coupled with emerging data to help minimize aerosol and splatter generation supports that cordless prophy handpieces can offer clinical performance with the added advantages of portability, convenience, and no cord drag.

References
Matys J, Grzech-Lesniak K. Dental aerosol as a hazard risk for dental workers. Materials 2020;13(2w2):5109.
Hayes MJ, Cockrell D, Smith DR. A systematic review of musculoskeletal disorders among dental professionals. Int J Dent Hyg. 2009;3:159-65.
Padhye NM, Padhye AM, Gupta HS. Effect of pre-procedural chair-side finger stretches on pinch strength amongst dental cohort – a biomechanical study. J Clin Diagn Res. 2017 Apr;11(4):ZC82-ZC85.
Rucker LM, Sunell S. Ergonomic risk factors associated with clinical dentistry. Can Dent Assoc J. 2002;30(2):139-146.
Harrel SK, Molinari J. Aerosols and splatter in dentistry. J Am Dent Assoc 2004;135:429-437.
Bentley CD, Burkhart NE, Crawford JJ. Evaluating splatter and aerosol contamination during dental procedures. J Am Dent Assoc 1994;125:579-584.
Christensen GJ. Continued Advancements in Cordless Prophy Handpieces. Clinicians Report, Dental Hygiene 2019;12(1):1-2.
Nield-Gehrig JS. Supplementary Instrumentation. In: Fundamentals of Periodontal Instrumentation & Advanced Root Instrumentation. 2008. Lippincott Williams & Wilkins, Philadelphia, PA. p596.
McCombs G, Russell DM. Comparison of corded and cordless handpieces on forearm muscle activity, procedure time and ease of use during simulated tooth polishing. J Dent Hyg. 2014;88(6):386-393.
Wilder-Smith, P. Aerosol and Spatter from Coronal Polishing with Four Different Handpieces. University Of California, Irvine. 2021. Accessed July 10, 2021.
Suprono MS, Won J, Savignano R, et al. A clinical investigation of dental evacuation systems in reducing aerosols. J Am Dent Assoc 2021;152(6):455-462.
---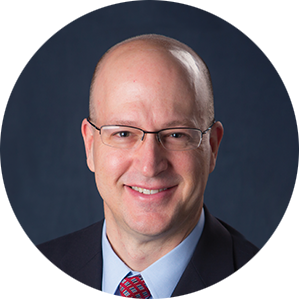 Jason Goodchild, DMD
Jason H. Goodchild, DMD is the Vice President of Clinical Affairs, Premier Dental Products Company, Plymouth Meeting, Pennsylvania; an associate clinical professor, Department of Oral and Maxillofacial Surgery, Creighton University School of Dentistry, Omaha, Nebraska; an adjunct assistant professor, Department of Diagnostic Sciences, Rutgers School of Dental Medicine, Newark, New Jersey; and in private practice in Havertown, Pennsylvania.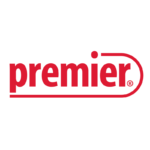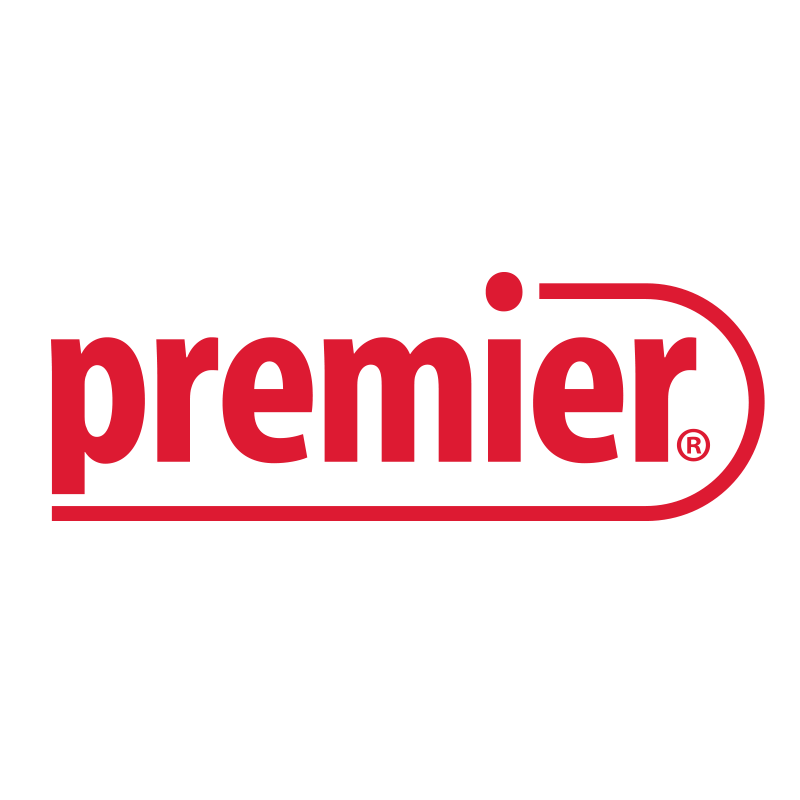 Published in TIPS – September/October 2021. Submitted by Premier.
Category: Merchandise
Back to Articles