Since 1888, Burkhart has proven its dedication to dental professionals by helping them grow, prosper, and succeed.
When you partner with Burkhart, you'll enjoy several benefits and programs designed especially for you. We offer a variety of solutions to help your business and practice thrive—from free consulting to office planning and design—to our popular program that guarantees you savings on your supply costs. Each of these programs is designed to help you make informed decisions and help you succeed.

With this exclusive program, we guarantee we'll lower your annual supply costs. Not only that, but we're the only dental supply company to put our guarantee in writing.
We do this by:
Developing a shared success, cost-savings goal

Closely monitoring your inventory

Ensuring you have adequate supplies

Eliminating unnecessary overages and waste

Providing high-quality, better-value products

Maximizing manufacturer coupons and free goods

Offering a liberal return policy with no restocking fees
2. Practice Support & Consulting
Our experienced Practice Support Team has clinical and business expertise dedicated to supporting your practice and answering your questions. These services are provided at no cost to you. Our Practice Consultants can assess your practice, make recommendations, and help you to:
Explore ways to achieve your practice goals
Discover strengths and areas that need more focus
Determine the overall health of your practice
Every decision in office planning and design is important to ensure your practice runs efficiently and profitably. With dedicated Equipment Specialists, we listen and ask the right questions. We help you make knowledgeable office design and equipment decisions based on our experience and your vision and goals.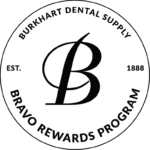 We are driven by a passionate belief in win-win relationships with our clients. Bravo is our client appreciation program to recognize our partnerships by providing meaningful client benefits. We are grateful for those partnerships and Bravo is our chance to show appreciation to our clients and thank them for their loyalty.
Clients can take advantage of our affordable financing and payment solutions designed to maximize flexibility and minimize their costs:
Burkhart Equipment Finance
Burkhart Express Loans
My Burkhart BillPay online payments
6. What a Great Supply Rep Does
In a fun lunchtime session at your office, your Burkhart Account Manager will explain to you and/or your staff what a great supply rep does for you and the benefits you can enjoy as a Burkhart client.
Supporting your practice with the tools, resources, and coaching needed to enhance your practice's success.
---
Published in Catalyst – Winter/Spring, 2019
Category: Office Planning & Design, Practice Consulting, Supply Savings Guarantee
Back to Articles