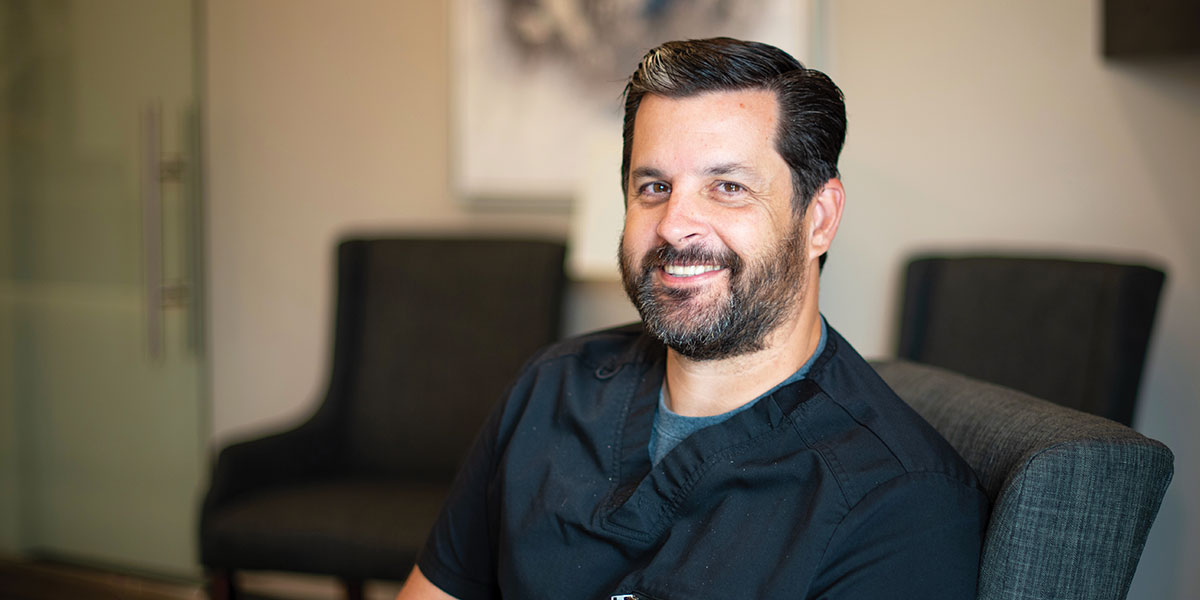 Unlike a lot of children, Mark Truhe loved going to the dentist when he was a kid. He liked the meticulousness of dentistry and the fact dentists could solve people's problems. "I remember my parents had something come up and were going to cancel my dentist appointment. I didn't want them to, so I rode my bike over four miles to my dentist's office," he says.
In his 21st year as a general dentist in Chico, California, Dr. Mark Truhe's practice (www.chicodentaldoc.com) provides a full scope of general and cosmetic dentistry with expertise ranging from porcelain veneers to dental implants, crowns, and bridges. Dr. Truhe has devoted his career to all aspects of preventative and restorative dentistry, with special interests in treating complex restorative cases and Invisalign orthodontics.
Born and raised in San Jose, Dr. Truhe is a board-certified dentist who received his undergraduate degree in biology from Chico State University. Chico is at the Sacramento Valley's northeast edge, one of the richest agricultural areas in the world. Like many, he fell in love with the Chico community. After receiving his DDS degree from the University of the Pacific in 1999, he returned to Chico with the dream of making it his home. His dream was realized when he bought Dr. Ken Harris' practice in 2001.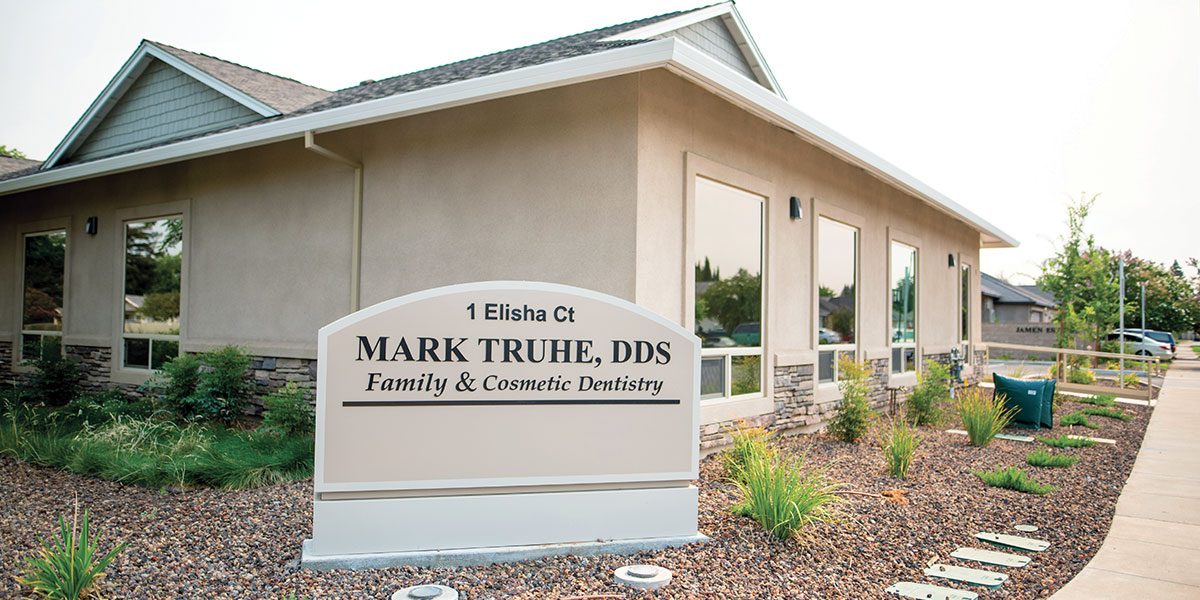 After 15 Years, Growth Necessitates Plans for New Building
He rented his first office for over 20 years, but 5-6 years ago, when his practice continued to grow, he started planning to buy his own building and expand. Unable to buy a building he wanted, he bought land and began building his new office. He bought his land in 2019, began work with an architect on drawings, and submitted plans to the city. He then signed loan documents and a construction contract three to four weeks before COVID-19 really hit. "It certainly added a ripple to my plans," he says
Original Office Had 400-500 SF Unusable Space
Dr. Truhe's rented office space had 2,800 SF – but 400-500 SF was unusable. It was plumbed for nine operatories, but he only used five. "I needed more space in each operatory but couldn't really move walls due to the design of the building," he says.
New Office Makes it Easier to Treat Patients in Growing Practice
His new building has 2500 SF, but it's much more usable square footage, he says. He now has seven operatories that are two feet wider and a foot and a half longer. "We basically made the rooms more usable for us to treat patients," he says.
Everything in the office has been updated. "We ended up doing 100 percent A-dec throughout the office. We have new equipment, patient chairs, cabinets, LED lights, a sterilization center, intraoral cameras, a 3D cone beam imaging system, a high-capacity compressor and vacuum, and an A-dec 12 O-clock Delivery System." The building is also on the main thoroughfare, so the practice has much better visibility and more vehicle traffic.
More Patient Privacy and New Technology
The new office design includes solid walls. "We wanted to provide more privacy for patients and to incorporate a lot of new technology so the patient experience could be better," he says. "We now have intraoral cameras in every room," he says. Our patients can watch everything while we are explaining things to them."
Goal for Office to Feel More Welcoming
Dr. Truhe wanted to make the new office more welcoming for patients. "It looks more like a living room," he says. "It doesn't look like a dental office. There is a fireplace in the lobby, a big-screen TV, a rock wall, and quartz countertops. Part of our goal was to take the anxiety away from patients," he says.
Uptick in New Patients
Although he provides about the same services as in his previous office, Dr. Truhe has seen a noticeable uptick in new patients. "Before we had about six new patients a month," he says. "And now we're averaging 25 new patients a month." He adds, "Word has gotten out – we have an office that is nice, clean, and new. I think it shows patients we are dedicated to them and their care."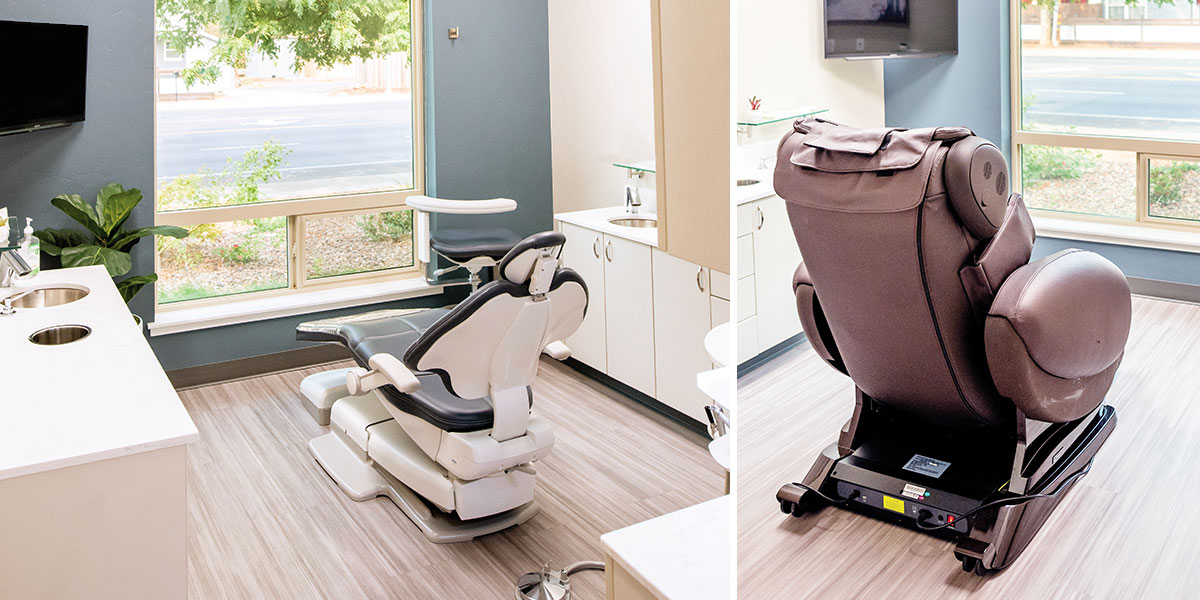 Equipment Selection Process
Burkhart took Dr. Truhe to the A-dec factory and showroom in Newberg, Oregon, to get a first-hand view of their equipment and products. He had some A-dec products in his previous office, but the trip solidified his decision about moving ahead with a full A-dec operation and helped him decide which items he wanted. "The equipment we ordered was a driving force in the practice layout and size of the rooms," he says.
Improved Efficiency and Scheduling
Dr. Truhe says the A-dec chairs especially have improved the way he works clinically. "They are very nice and I'm able to position patients a lot better. All of it is efficient—everything is within arm's reach." He adds, "With the new operatories, we have more space to take care of people. It has also made scheduling easier."
Importance of Updated Technology
"The patients notice our updated technology," says Dr. Truhe. "Even the new overhead lighting people have noticed. And we made the sterilization center open for patients to view in a glass cabinet. It's on stage. It's the kitchen of our dental office and patients can't help but see it. I'm sure it makes a positive impression on them."
Burkhart Team Provides Expertise and Service
A Burkhart team including Account Manager Melissa Ashburn, Lead Service Technician Chris McClain, Mitchell Theis, Service Technician, and Equipment Specialist David Rosas was there to provide advice and guidance, helping to turn Dr. Truhe's dream of a new office into a reality.
The team helped Dr. Truhe with the design of his new office space, equipment, and technology. "My Service Technician Chris McClain has been with me for years," says Dr. Truhe. "He really jumped in and helped with the equipment installation. All the other Burkhart representatives and equipment specialists – I can't say enough about them. I was very pleased with the whole team including my Account Manager Melissa Ashburn who put me in touch with several Burkhart equipment experts. We used a lot of Burkhart's in-house expertise."
Dr. Mark Truhe's Advice to Doctors Considering Updating or Building a New Office
Dr. Truhe's advice to other doctors is to "trust your design team." He says to take their years of knowledge and recommendations into consideration – everyone from architects to interior designers. "Burkhart put me in touch with my interior designer who worked with equipment specialists to make sure the equipment fit into the spaces and cabinets. She also came up with the color palette and pushed me out of my comfort zone. It's a more modern style and I'm really glad. Pay for good knowledge."
---
Learn More About Office Planning & Design Services
Realize your dream office potential and talk to your Burkhart Account Manager today.
Learn more about Burkhart's Office Planning & Design.
---
Written by Denise Ploof
Photo by Jessica Bartlett
Published in Catalyst – Fall/Winter 2021.
Category: Office Planning & Design
Back to Articles