You may be aware 3D printing is available for dentistry. Over the last few years, clinical applications for 3D printing have increased and will continue to do so for the foreseeable future.
Here are three key questions to help you understand the impact 3D printing is having on dentistry.
1. What are the clinical possibilities with 3D printing?
The following are some of the key clinical applications of 3D printing:
Highly Accurate Dental and Orthodontic Models

Castable Crowns, Bridges and Partial Denture Frameworks

Direct Crowns & Bridges and Partial Denture Frameworks

Bite Splints

Night Guards

Indirect Bonding Trays

Surgical Drill Guides

Denture Bases
2. Are there different types of 3D printers?
There are a wide variety of 3D printers on the market, however, the two most common types are SLA and DLP. Each of these technologies use light, but differently, to turn liquid resin into a solid object.
Stereolithography (SLA): a technique for creating three-dimensional objects. A computer-controlled moving laser beam is used to build up the required structure, layer by layer, from a liquid polymer that hardens on contact with laser light.
Digital Light Processing (DLP): a technique for creating three-dimensional objects. A projector projects different layers as a flat image, image-layer by image-layer, from a liquid resin that hardens.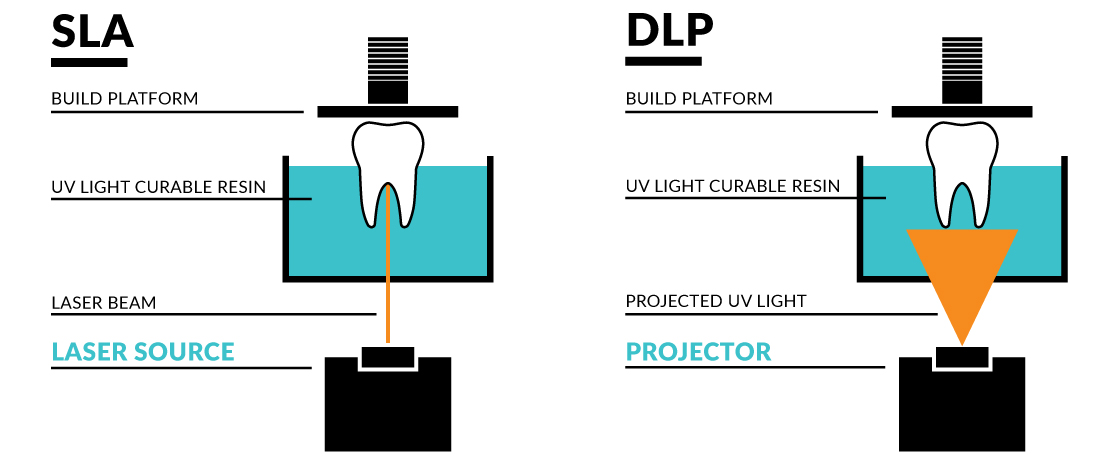 Both technologies offer a wide selection of 3D print materials for various applications. However, because DLP prints each image layer-by-layer, it has a faster print time.
3. What is the cost of ownership with 3D printing?
The price for both SLA and DLP can vary from $4,000 – $20,000+, depending on the size and quality you're looking for.
What is more important than the price, is calculating the cost of ownership. Even though some 3D printers may be priced higher, over several months, they can actually cost you less. When selecting a 3D printer, you should consider the following costs:
Materials: Broad selections, cost, open/close (only accepts manufacturer print resins and or cartridges)
Support: Is there a cost, loaner program, local representation
Warranty: Duration, availability of extended warranty
---
Curious about 3D printing? Contact your Burkhart Account Manager or Customer Service 1.866.562.8176 to learn more.

---
Written by Michael Norton
Photos by Matt Ellis
Category: Technology
Back to Articles