When describing her practice philosophy, Dr. Shannon Jones, DDS, says her office prides itself in knowing their patients are their friends, neighbors, colleagues, and family.
Every patient I treat, I ask myself if I would be ok with the same procedure being done on me or any of my family members," she says. Ethics in dentistry are highly important at Dr. Jones' office. "Dental ethics play a huge part in my practice and how I treat and provide treatment plans for patients," she says.
Dr. Jones has been in practice for nearly 17 years and in her current location in Bozeman for 3 ⅟₂ years. The mission of her practice is to be a cohesive unit that provides excellent dentistry for people who appreciate her care, skill, and judgement.
Doctor & Eight Staff Treat 3,500 Patients
Dr. Jones provides dental care through her practice with eight support staff: three hygienists, three dental assistants, and two front office staff. The team treats children and adults and has 3,500 active patients. Services include general dentistry and restorative dentistry, crowns/bridges, and restoring implants.
Expansion Allows Practice to Grow and Reflect Professionalism
Bozeman's growth has positively impacted the growth of Dr. Jones' practice. In 2016, she decided it was time to move her practice. She was on a top floor of a building with no elevator and no room for growth or expansion. Dr. Jones wanted to build a new building for her growing practice.
"The new office has definitely allowed me the opportunity to grow as Bozeman is growing. I think first impressions are very important and I hope our office reflects our professionalism and our desire to do excellent dentistry."
Tedious Building Process
"The building process was very tedious," she says. "Bozeman is a booming town and our city department is overwhelmed with applications for new building permits," she adds. Dr. Jones shares her office building with a financial advisor and together they designed and built their building. Dr. Jones' husband was the general contractor who then took over the build-out of her dental office.
New Equipment Improves Efficiency
They toured the A-dec facility in Oregon to select some of their equipment. "That is such an impressive facility," she says. "We have been very happy with the items we purchased from them". Burkhart staff helped with their equipment choices as well. "Other equipment was purchased based on what Burkhart thought was the best," she adds.
Her dental equipment has improved the efficiency of her office. "All of our equipment has made the daily tasks of our office more efficient, more fluid, and more predictable."
Need for More Operatories Came Sooner than Expected
Dr. Jones added two operatories when she built her new office. When they moved in over three years ago, she had five of them furnished. About six months ago, she furnished the sixth operatory after hiring another hygienist. "It has definitely helped to have the extra operatories; I never thought I would need all six so soon," she says.
Investment Financially & Clinically
Dr. Jones feels that building her new office was a sound investment. "It was a good investment financially and a good investment clinically. I think I am more efficient treating patients in an office that flows better with equipment that is more reliable," she says.
Advice to Those Considering Expansion
"My best advice to others considering building or expanding is to make sure they have support from home and their office," she says. "You will have a lot of decisions to make and sometimes you will need to rely on others to help you out. Building can be a huge investment", she says. "You also need to make sure it is the right time for you financially."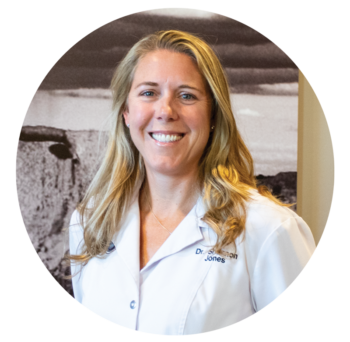 Inside Scoop
Dr. Shannon Jones
Shannon Jones, DDS, is from Dublin, California, about an hour east of San Francisco. Her father was born in Montana and his father attended Carroll College in Helena prior to going to medical school. Carroll College has a strong pre-med program, she says, "and I was interested in leaving California, so off I went."
She received a bachelor's degree in biology and a minor in chemistry from Carroll College in 1998. She took a year off and traveled Europe with a friend after applying for dental school. She had some acceptance letters waiting for her when she returned and chose to go to Creighton University's School of Dentistry in Omaha, Nebraska.
---
Dentists
1
Staff
8
Active Patients
3,500
New Patients/Month on Average
24
Service
General Dentistry
Focus/Specialty
Restorative Dentistry, Crowns/Bridges, Restoring Implants
Mission
To be a strong and unified team that provides excellent dentistry for people who appreciate their care, skill, and judgement.
Practice Size
1,700 Sq. Ft (Original) & 3,300 Sq. Ft (New Space)
Operatories
4 (Original) & 6 (New Space)
---
Realize your dream office potential and talk to your Burkhart Account Manager today. Learn more about Burkhart's Office Planning & Design capabilities.
---
Learn more about The Bozeman Boom.
---
Written by Denise Ploof
Photos by Emily Denis
Published in Catalyst – Spring/Summer 2020.
Category: Office Planning & Design
Back to Articles