Brothers and dentists William and Cody Winterholler have a lot in common. Although eight years apart, they grew up in Billings, Montana, attended the same high school, university, and dental school. The oldest brother, Dr. Will, graduated from Creighton University School of Dentistry in 2005, and Dr. Cody graduated from there in 2013. They both eventually brought their families back to their hometown of Billings.
Dr. Will started his practice, Winterholler Dentistry & Implant Surgery, in Billings fifteen years ago. Eight years later, Dr. Cody moved back to Montana and worked as an associate with Dr. Will. Two years later, he bought into the practice. Dr. Will purchased and opened a second practice in Laurel, Montana. There are six doctors, 26 staff, and over 4,000 active patients between the two locations – most of whom are from Billings. But the practice has patients who travel over 500 miles for treatment.
Soft Spot for Elderly & Veterans
When it comes to giving back to the community, "the practice has always had a soft spot for elderly patients and veterans – especially elderly veterans, explains Dr. Will. "We absolutely love giving back to our community," adds Dr. Cody. "Our philosophy has always been to reach out to those in need and to provide opportunities for individuals who are underserved, specifically our veterans."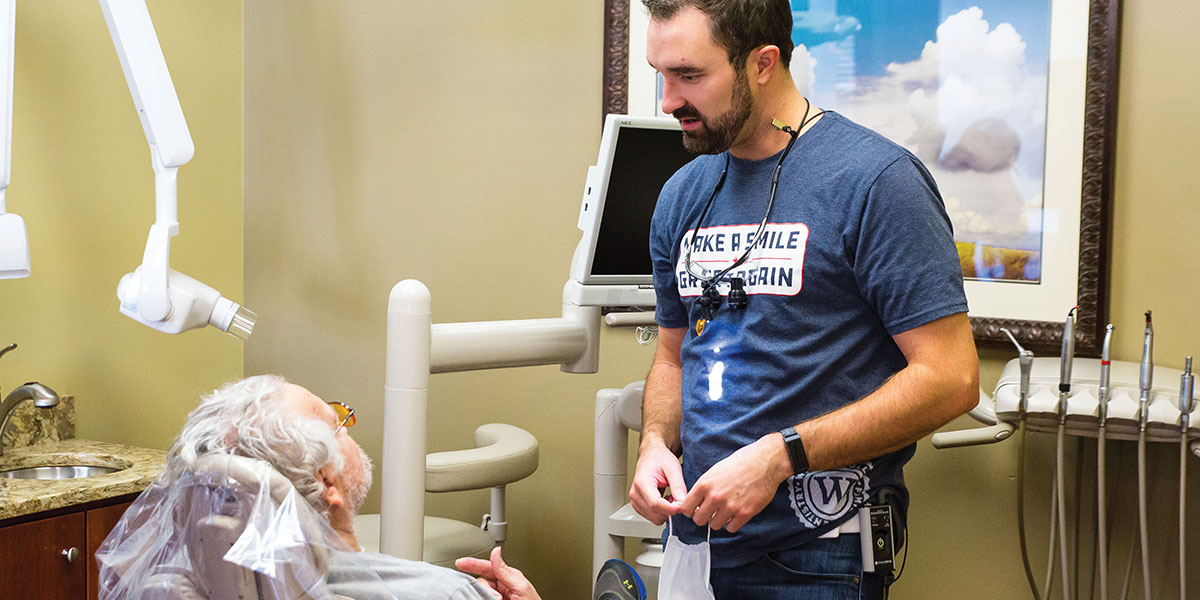 Veterans' Day Program Donates Over $100,000 in First Year
The Winterhollers launched their first Veterans' Day program, called Make a Smile Great Again (MASGA), in 2018. "We set our sights extremely high for maximum impact," says Dr. Will. "Understanding that our nation's veterans at times have difficulty receiving dental care and/or waiting for extremely long periods of time, we decided to have a day where we offered donated dental services to active and retired military," explains Dr. Cody. "One of our specific objectives was to go beyond some of the more traditional services provided and offer veterans options such as dental implants."
In the first year, they saw 99 patients and performed 30 dental implants. They donated over $100,000 of dentistry for veterans in one day. "We had volunteers, received generous community donations of food, and even had a few local barbers donate free haircuts to vets while they waited for dental services. Plus, we had donations of dental supplies from Burkhart and various other companies," he adds.
Serving Those Who Have Served Us
"What has been most rewarding are the connections we have been able to make with the finest human beings America has to offer," he asserts. "Men and women who have sacrificed so we can enjoy the freedoms we have today. Seeing them smile and receive a gifted procedure is so life-changing – that only takes a bit of time and skill on our end – is well worth it," he says. "For me personally," adds Dr. Cody, "it's really just been about the opportunity to serve those who have served us."
Impact on Active Military, Veterans & Staff
After the first event, the Winterhollers decided to continue the annual tradition. "We've continued the tradition of our MASGA day because of the impact it has had on our active military and veterans," explains Dr. Cody. "It's also been a time to step back and really understand the sacrifices each of these individuals has made for me, my family, and staff for the freedoms we enjoy on a daily basis."

Unifies Team in a Greater Common Cause
When asked if their Veterans' Day event has helped the practice, Dr. Will replies, "In a financial way, I don't know or care if it has. From the point of view of the staff and doctors, it has brought us closer together." Dr. Cody adds, "I think more than anything, our MASGA day has helped to build our team and to unify us in a greater common cause."
Don't Be Afraid
Dr. Will encourages other doctors to give back to their communities. "We are blessed with a skill set that changes lives. You don't have to travel to a foreign country to help people. Don't be afraid to do something," he emphasizes. "Find a cause or a group of underserved individuals and be creative in how you help them," suggests Dr. Cody. "Other individuals within the community are so willing to give back and provide their services, it makes it less about dentistry and more about community."
---
Written by Denise Ploof
Published in Catalyst – Fall/Winter 2021.
Category: Giving Back
Back to Articles