Clear, Comfortable, Affordable
Whether you are an Orthodontist or a General Practioner, you are probably asked daily about clear aligners. It is one of the hottest topics in dentistry right now.
You may already be offering Invisalign or something similar, but these can be pricey for patients. How many of those in need declined treatment because they simply could not afford it? You may later discover some of those patients went on to get lower-cost treatment from a direct-to-consumer provider like Smile Direct Club, breaking the bond between you and your patient. How can you retain patients to receive needed ortho treatment? There is a new solution!
Burkhart and DenMat, a leader in lab fabricated appliances and prosthetics, such as Lumineers and Snap-on Smile, have partnered to provide a new orthodontic solution for dentists to offer their patients.
OrthoClear is a complete yet easy and affordable, clear aligner system that allows dentists to compete with direct-to-consumer providers to retain patients and treatment revenue in their practices. With a new level of affordability, dentists can use OrthoClear to bring treatment costs within reach of more patients while still maintaining healthy financial contributions to the practice.

What is OrthoClear™?
OrthoClear is a complete, turnkey system for orthodontic treatment focusing on Class 1 & 2 malocclusion. Made from a 0.76mm (0.03″) high-quality stain and crack-resistant multi-layer polyurethane, OrthoClear provides continuous forces for better outcomes and less chair time. To get started, the dentist only needs a Starter Kit that includes everything required for a successful case, including:
Demonstration model to show patients how the treatment works
High-quality patient-facing marketing literature, including a poster and 50 patient pamphlets along with a waiting room pamphlet stand
Voucher for the first case
Rx Forms
Return case box with a pre-paid shipping label
What is the OrthoClear™ Case Process?
To submit a case, take a traditional impression, fill out the Rx Form with the required information, and send it along with the case voucher to DenMat's lab using the provided case box and pre-paid shipping label. DenMat is a digital lab, so those making digital impressions can send them electronically to the lab through a portal. The lab will design the case using advanced 3D orthodontic case planning software. Once created, the case is reviewed and approved by the lab's experienced on-site clinician before being reviewed virtually with the prescribing dentist for final approval. This usually takes five days from receipt of the case at the lab.
Upon receiving approval from the prescribing dentist, the lab will fabricate the needed OrthoClear aligners (up to 15 sets or 30 aligners) using precise, state-of-the-art CAD/CAM technology and ship them back to the prescribing dentist. Turnaround time on this is usually five days after receipt of final approval.
What are the Financial Considerations with OrthoClear™?
The OrthoClear Starter Kit is an economical way to get started and only costs $825 for everything you need, including the voucher for your first case (a $795 value). Additional vouchers can be purchased from Burkhart for subsequent cases at a special introductory price of $750, a $45 per case savings.
Typical orthodontic patient treatment fees are 4.5 to 5 times the lab fee. With OrthoClear, your patient cost can be as low as $3,400. Compare this to $5,000 – $6,000+ for other clear aligner offerings. The financials with OrthoClear are great for both patients and dentists. By attracting one to two additional patients with OrthoClear's more affordable pricing, you breakeven compared to more expensive alternatives, and each additional patient only adds to the practice's financial success.
How Can I Have Confidence That I Can Be Successful With OrthoClear™ Aligners?
When submitting a case, your voucher includes a full case design, thoroughly reviewed by DenMat Lab's case design experts, including review by one of their two qualified dentist staff. Once the case is designed, the lab will review the case with you during a Virtual Treatment Review (VTR) and get your approval before manufacturing the aligners. You'll have the opportunity to thoroughly understand their design approach and have all your questions answered.
If you have had patients ask you about clear aligners already, then you know the interest and demand are there. Now you will be able to offer an affordable solution they can get excited about. Letting the rest of your patients know about this new capability is easy with the professionally produced patient marketing materials included in the OrthoClear Starter Kit.
How Do I Get Started With These Clear Aligners?
To learn more, contact your Burkhart Account Manager or Customer Service Representative. They can answer your questions and help you get started. All you need is the OrthoClear Starter Kit to begin your first OrthoClear case, and you are off and running!
---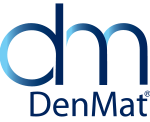 Published in TIPS – September/October 2021. Submitted by DenMat.
Category: Merchandise
Back to Articles