What practice would say no to an additional $72,000 per year?
As a dedicated dental professional, I'm sure you are always watching your bottom line and trying to find ways to reduce overhead and increase revenue. Let's face it – that's crucial to the success of the dental practice! But are you aware the day-to-day struggles your clinical team face each day that are wasting time and costing money?
After over 25 years as a dental assistant, I have experienced the chaos and stress that can occur when a dental practice is not functioning at its best. In the course of my career, I worked with a number of practice management consultants. I have to admit, I learned a lot about re-care systems, treatment planning, case acceptance, strategic scheduling, improved collections, insurance processing, and more. That's all very important and useful information, and we definitely benefitted from it, but looking back there was one key component that was always missing from the consultants' messages that would have made such a difference in the way we practiced dentistry. In fact, by missing this now obvious solution, our workdays became more chaotic and stressful than ever! And this key component could add $72,000 of revenue, each year, to your practice!
I recall one management consultant suggested we explore ways to reduce chair-time from our existing procedures. The goal was to get more patients in per day, to increase production, and therefore add more revenue. Based on her direction, we started double booking, piggy-backing patients, and re-worked the schedule to cut significant time off each procedure. Sure enough – it worked! We immediately saw an increase in production… but at what cost? We found ourselves running behind schedule, having to work into our lunch breaks, and staying after hours to try to keep up. We were often missing materials and instruments during procedures, causing us to have to leave the patient to go find what we needed. Clutter began to pile up, and materials and products were being shoved anywhere, just to get them out of the way.
Clearly, this wasn't the answer. The real answer is even easier to implement and is sure to reduce the stress in your dental team. It's called the Color Method™! Zirc Dental Products is an innovative manufacturing company with a mission to help dental teams achieve safety, happiness, and efficiency. Our Color Method™ has been proven to increase productivity while decreasing stress. It starts by identifying each procedure by its own color and incorporating color-coded products such as cassettes, trays, and procedure tubs for managing all the instrumentation and dental materials. With this method, clinicians can easily identify and access everything needed for each procedure, and forget the days of missing anything during dental procedures.
Color Method™ has been proven to increase productivity while decreasing stress.
Zirc has done extensive research in the dental practice efficiencies, and we found, on average, whenever a clinician has to leave the treatment room during a procedure, three minutes are wasted. That doesn't sound like a lot, but over the course of a day, it can really add up. If it happens just six times per day, that's 18 minutes! Not to mention how that negatively affects the patient perception and creates stress and frustration for the dental team.
Check out the results from a case study conducted by Dr. Tanya Brown from Chesapeake, Virginia. After implementing the Color Method™, her practice saved one hour and forty nine minutes per day in the time it took for room turn-over and instrument reprocessing! Add the eighteen minutes accrued by not having to leave the treatment room during a procedure to the to the time saved in room turn-over and sterilization process, and we have saved more than enough time to do an extra crown procedure every day! The best part is, this results in added revenue without having to shorten procedure times, double book patients, or feel stressed.
Added revenue without having to shorten procedure times, double book patients, or feel stressed.
Take your practice to its true potential. Earn the revenue you and your team are striving for with a system that will save time, increase productivity, decrease stress, and provide a positive patient experience. Introduce your team to Zirc's Color Method™, and you too can gain as much as an additional $72,000 in revenue, each year!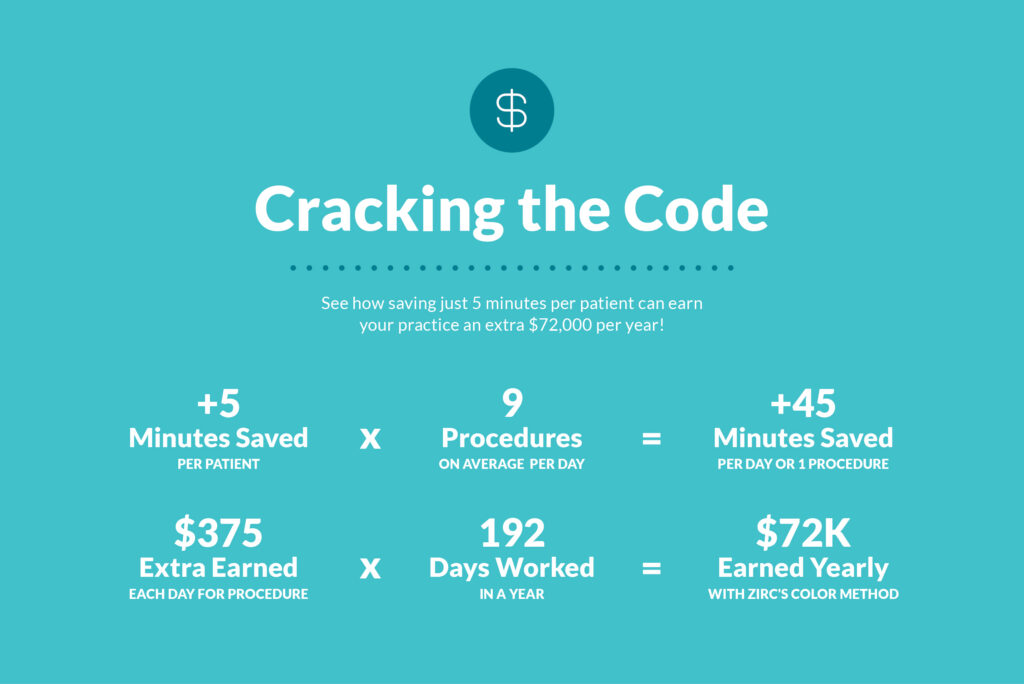 Looking for a resource to get you started?
Check out ZOBE, Zirc's Organizational Box of Efficiency! This is a complimentary service where we ship you a box that contains over thirty of our organizational products for you to explore right in your own practice. Our clinical product and efficiency consultants will work with you to develop a custom plan for your practice, and you determine which products will work best for the procedures within your practice before buying! Find out more.
---
Written by By Kay Hickey, LDA, Product & Efficiency Consultant for Zirc Dental Products
Permission to publish provided by Zirc Dental Products.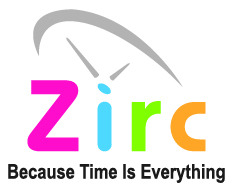 Published in TIPS – July/August 2020.
Category: Merchandise
Back to Articles