Patient Scripting
Offering reassurance to patients, with consistent talking points, requires you to be calm, to speak slowly, and to maintain eye contact. You will likely find yourself repeating this information many times a day; each patient only hears it once, and the information is as important as it gets – life or death important. Do not allow repetition to bring complacency or insincerity. Your patients may be anxious or even fearful; the information you share, and the manner in which you share it, will help alleviate anxiety and foster trust that strengthens patient relationships.
Soft Re-Opening of Your Dental Practice
Video Reassurance Prior to Opening (Website/Social Media Channels)
Start reducing the fear patients may have regarding dental treatment and the possibility of infection, prior to your opening day. This sample scripting is for video creation to place on your website and social media channels. The video can highlight the doctor – or the doctor with multiple staff members – each sharing a different part of the message.
"The team wants you to know we're thinking of you. We want to share some of the things we have been working on here at <Practice Name>, and some of the changes you will see.
We are installing medical-grade air purifiers that will help keep you and our team safe. We will be limiting the number of people we see at one time to support social distancing. We will be asking patients to wait in their vehicles, and we will text you when your room and team member are ready for you.
You may also notice different masks and uniforms. We want to assure you we have the best sterilization protocols in place and are closely following the CDC recommendations.
Through these challenges, we have gained an even greater appreciation for you, our patients; and we are committed to keeping you safe while you are in our hands.
Something else we have added is teledentistry. If you have any questions or a dental emergency, please call the office, and we can set up a teleconference with you. We can do a lot in that conference to help you. We are here for you. We'll let you know just as soon as we have an open date."
Examples
Watch how Clear Creek Dentistry conveyed safety changes to their patients and community.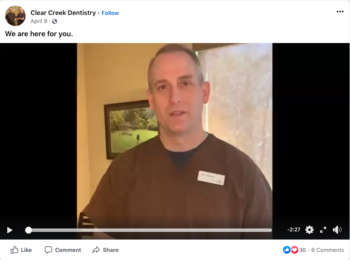 Watch how Heather Bobb, DDS conveyed safety changes to their patients and community.
Re-opening Announcement (Patient Base/Website/Social Media Channels)
Sample Email to Patient Base
To all our Valued Patients:
At <Practice Name>, we remain committed to doing our part in minimizing the spread of the Coronavirus, COVID-19. As healthcare professionals, we continue to follow well-researched, scientific public health advice to help limit infections and slow the spread of COVID-19. We're excited our Governor has lifted our Emergency Only order and we will begin seeing patients again on __________.
Rest assured, your safety, and the safety of our dental team, is a top priority. We will continue to follow all CDC, ADA, and state specific recommendations regarding personal protective equipment and the sterilization of instruments, surfaces, and workspaces to protect our patients and staff members. We are also taking extended measures to further protect all our patients and team with the following protocols:
Pre-screening all patients as we confirm appointments and prior to entering the building
Social distancing – by asking you to remain in your car until we text you that we are ready for your appointment
Upon entering the office, you'll be asked to sanitize your hands
At the beginning of your appointment, you'll be asked to pre-rinse with an anti-viral rinse
Added equipment to limit aerosols in the treatment rooms
(List any additional steps you're taking)
If you had an appointment scheduled during our closure, we will be reaching out to you to get your appointment rescheduled. If we've already rescheduled your appointment, we'll be reaching out to confirm your appointment and advise you of some new protocols we've put in place to ensure you and our dental team are protected. We encourage everyone in our community to continue to take steps to minimize the spread of the virus, as directed by the CDC. 
If you have a question about an upcoming appointment, please contact us. We look forward to seeing you again!
Website Announcement
Update the banner on your website to read, "We're excited to be seeing patients again starting ______.   If you've missed an appointment due to our closure, we'll be in touch soon to reschedule." 
If you are adding additional hours to meet patient demand, spotlight these on your website as well, "We've temporarily added hours to support you and your dental health."
Your practice will more than likely experience some patient attrition; be sure you promote you are accepting new patients and prominently display your phone number on your website as well.
Consider adding a section on your home page, "Always Taking Steps to Protect You and Your Health," outlining changes patients will see in the practice to reassure them of their safety in your practice. Mirror the language used in your email letter.
Social Media
Consider a daily post on social media striking a balance between warmth and assurance.
Spotlight and post your practice video (see Video Reassurance)
Post the steps you're taking to keep patients safe
Post photos of what team members were doing while on furlough (CE, walks with the dog, baking up some great treats, etc.)
Spotlight any new equipment or technology used to keep everyone safe
Post a team photo from "pre-COVID" – "Under all our protection, we have the same heart as ever. Looking forward to seeing you!"
"We've missed you and we're excited to see you again at <Practice Name>, starting on ____________. We want to assure you we have the best sterilization protocols in place and are closely following the CDC recommendations. We're here for you and all your dental needs with our extended hours on Fridays from 7-3 and Saturdays from 9-2.  You can reach us at XXX-XXX-XXXX.
Wellness/Relationship Building Check in Call
Your practice is re-opening, and your patients need your reassurance and relationship more than ever. Consider a connection call to demonstrate the practice's care and support to ultimately build and maintain a genuine connection with the practice.
Consider calling patients during the time of day they may have normally had their appointments with you, using verbiage similar to:
"Mary, I'm so happy I reached you today, its Martha calling from Dr. Hsu's office. I wanted to call and see how you're holding up through all this. I know it's a stressful time. How are you? (LISTEN) I know all of this can be so overwhelming; we wanted to reach out and send you some support, letting you know we're thinking of you and miss seeing you."
Let them know what date the practice is reopening
Let them know your top priority is their safety
Direct them to your website or social media to hear and read more steps the practice has taken to ensure patient and team safety, and to learn more about what the team has been working on while the office has been closed
Let them know you look forward to seeing them again soon
If you can't complete these for all your patients, start with those with treatment in process, those you want back in the practice, those with high treatment acceptance, and those long-term patients you know will benefit from a "nudge" to reschedule appointments
Scheduling: Screening Questions/Reassurance
"I'm so glad you reached out. I would be happy to find an appointment for you; we appreciate the opportunity to provide your care again! I hope you and your family are staying healthy."
Screening questions:
"We are doing our part to reduce the spread of COVID-19 while keeping you and all our patients safe. I'd like to ask you a few health-related questions prior to finding a time that works for you:"
Refer to ADA and CDC guidance regarding symptoms and questions to ask:
 (If no symptoms, schedule appointment.)
We are looking forward to seeing you on (day) at (time). As part of our dental family, we want to assure you our #1 goal is your safety and the safety of all our patients and staff. In light of this, we have made some changes I want you to be aware of that will help keep you safe:
Upon your arrival, we will ask you to call or text us from your vehicle. When your room and clinician are ready, we will notify you. In this way, we limit the number of people gathering inside the practice and protect you by creating social distancing."
You will also notice the practice will feel less busy – because we are staggering patients as an additional measure to limit interactions.
We are reserving our reception area for those patients arriving via transportation other than their own, or who cannot wait in their vehicle.
While we love seeing family members, any guests accompanying patients to their appointments will need to wait in their vehicle. Non-essential individuals will not gain entrance to our clinic.
When you get here, <hygienist or assistant> can tell you all about new equipment we have installed to further protect you.
(If planning to charge a PPE fee) You'll also see an additional $____ fee that will cover the personal protective equipment designed for your appointment specifically to keep you safe."
Do you have any questions for me?  (Pause to listen and reply) You can feel safe in our hands – we look forward to seeing you again!
Patient Confirmation
"Please understand we are pre-screening all patients out of care for everyone's safety…"
Explain new arrival protocol – call or text on arrival, wait in vehicle, no visitors in the clinic.
"To ensure your and our other patients' safety through social distancing, please call or text us from your vehicle when you arrive for your appointment. We will respond, letting you know the next steps. Please be aware no visitors are allowed in the clinic at this time, only the patient being treated. If you need a companion for health or translation assistance, please let us know, so we can make arrangements."
Ask patients to update their health history online. When not possible, they should update in a private area that is sterilized immediately afterward, including pens and electronic devices.
With high rates of unemployment, it will be essential for dental offices to verify insurance eligibility, on the date of service, to avoid recoupment requests. Check out the ADA's advice on Handling Eligibility Verification.
If you are planning to charge an additional fee to cover added PPE expenses, you must inform the patient of the amount of the fee to expect.
"You'll also see an additional $____ fee that will cover the personal protective equipment designed for your appointment specifically to keep you safe."  
Check in Patient Talking Points
Place a sign on the front door instructing patients to call on arrival and wait in their vehicle. When possible, the entry door should remain locked from the outside to prevent entrance.
Repeat screening questions (even if done during confirmation, as the virus can appear suddenly):
"Thank you for following our new protocols and calling from your vehicle; I know this must feel strange to you. We are committed to taking every step possible to make this environment safe for you. Everyone entering our practice will go through this routine." (This reassures the patient you are creating a safe place for their treatment)
"Do you have any of the following symptoms? (see ADA and CDC for list of symptoms). I would like to meet you at the front entrance where we will do a digital temperature check. Thank you for updating your health history online – or – we will need for you to update your health history and I will provide a copy of that to you."
"As soon as your treatment room is sterilized and ready for you, I will text/call to let you know and direct you to the correct room. We should be ready shortly."
Clinician Talking Points to Provide Reassurance
In addition to creating visual reassurance by washing hands, using hand sanitizer, and opening sterile instrument pouches in front of the patient, be prepared to verbalize added safety measures before you lay the patient back to begin treatment.
"We've worked hard to ensure you and our team are safe…
You have already seen some changes on your arrival as we take steps to create social distancing
In the clinic area, we have equipped each operatory with (medical grade air purifiers, reduced aerosols through additional suction, have new high-vacuum suction devices…)
We have additional personal protection equipment
We've removed all non-essential items from each operatory for greater sterilization access
We now have an anti-viral pre-procedural rinse, recommended by the CDC, which I will provide you
Every surface, door handle, and virtually anything that can be touched is sterilized after each patient, as part of our daily routine
We also take our own temperatures daily, as a precaution, in addition to taking yours
Please know we have always strictly followed CDC guidelines – but this is a new virus requiring new safety measures, and we are incorporating heightened sterilization protocols in response to this threat
We are committed to doing everything we can to create a sterile environment to protect you, and us, from airborne viruses
"Do you have any questions before we get started?"
Post-Treatment Check out
It is important at this point to be attentive to new protocols to ensure patient safety; this portion of a patient's appointment will be the last impression for the patient, and may be very different for the patient and you. However, key components remain the same. While you will not be walking the patient out, do not abandon sound financial and case presentation practices.
Remind the patient what a pleasure it is for you to see them again in the practice.
Create a proper transition of the appointment to a new stage. Review the treatment completed today and the next treatment needed with a time frame:
"We've completed your exam, cleaning, and x-rays today, as scheduled. We need to get you scheduled for a crown on that lower right molar next; Dr. ________ is hoping we can get you in within the next month due to the extent of the fracture on that tooth. I know you shared you want to discuss some financial options for that as well. I'm going to ask you to go up front to talk with _________. (Alert front desk staff that patient is on the way in an OSHA compliant manner.)
Provide a mask if they would like one, and walk up front to discuss financial options, keeping social distancing guidelines in mind.
Consider taking payments at the start of appointments:
"I would be happy to process your insurance for you and collect your portion for today's treatment. Completing this ahead of time will allow you to leave immediately after treatment today without needing to stop and check out while you are numb."
OR
"We have estimated your insurance plan to pay $________, leaving you with a balance of $________. We can process that for you now, so you can make a quick get-away following your treatment!"
Process payments with a portable device and offer remote payment options such as pay-by-text or through your practice management software. The goal is to limit the number of times a patient must stop at the front desk. "I know you've probably used this technology before at coffee shops and other stores. This will allow us to take your payment more easily. We can also process through Venmo (or Cash app), which works better for you today?" 
Complete any necessary financial arrangements in the operatory or in the consult room, followed by a thorough sterilization of the room.
Email treatment plans to patients, offering to review details and schedule via phone, email, or text.
Do you have any questions for me? (Pause to listen and reply) We look forward to seeing you again!